Posted: Nov 19, 2012 10:00 AM
Who says marshmallows are just for your summer s'mores? They are a delicious topping for your fall pie! Mini sweet potato marshmallow pies are perfect for fall, combining the flavors of the two seasons into one heavenly dessert.
The perfect crust to bring together a summer s'mores marshmallow topping on your fall pie? Why graham crackers of course! Crumbled graham crackers are simply divine and add a wonderful crunch. Sweet potatoes are a great alternative to pumpkin for your pie filling this holiday season and everyone will love the gooey marshmallow topping. Serving the pies in individual ramekins also add that extra flair and will make your guests feel like they are getting their very own special treat!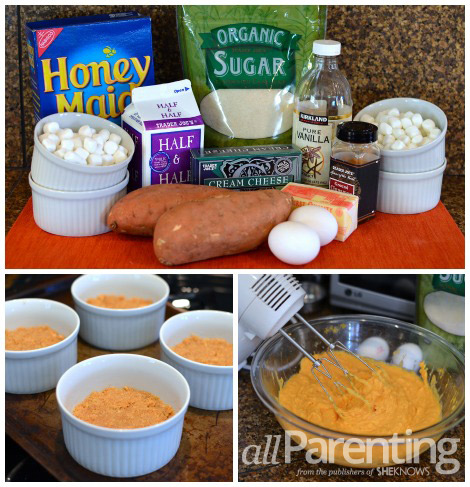 Mini sweet potato marshmallow pies
Serves 6
Pie filling ingredients:
2 sweet potatoes, peeled and diced
4 ounces cream cheese
2/3 cup sugar
1/4 cup half-and-half
4 tablespoons (1/2 stick) butter, melted
2 large eggs, lightly beaten
1 teaspoon vanilla extract
1/4 teaspoon ground cinnamon
Mini marshmallows
Graham cracker crust ingredients:
10 graham crackers
1/4 cup sugar
6 tablespoons butter, melted
Directions:
Preheat your oven to 350 degrees F. Using a food processor, pulse the graham crackers until well crumbled. Add the sugar and butter. Mix until well combined. Press the graham cracker mixture into the bottom of 6 small (or 4 large) ramekins. Bake for 10 to 12 minutes and set aside.
Meanwhile, boil the diced sweet potatoes for 20 minutes or until soft. Drain and transfer to a large mixing bowl. Using a hand mixer on medium speed, beat the sweet potatoes until smooth. You should have about 2 cups of mashed sweet potatoes. Add the cream cheese and continue beating until smooth.
Add the sugar and half-and-half, beat 5 minutes or until the sugar dissolves. Add the butter, eggs, vanilla and cinnamon and beat until well blended.
Evenly divide the sweet mixture over the graham cracker crusts. Bake in the oven for 25 to 30 minutes until the filling is puffed and set around the edges but the center jiggles slightly. Top each mini pie with mini marshmallows. Crisp the marshmallows using a kitchen torch or under the broiler for about a minute.
Serve and enjoy!
More fall dessert recipes
Pumpkin crumb bars
Pumpkin spice latte cupcakes
Mini apple pie bites