Posted: Nov 20, 2012 5:00 AM
Every Thanksgiving meal needs a great stuffing, one that soaks up every last bit of gravy and complements the flavors of the roasted turkey.
Every family has their own ideas about what should be included in Thanksgiving stuffing. For some, it's wild rice and mushrooms, for others it's apples and nuts and some prefer oyster stuffing. However, when it comes to pleasing a crowd, a traditional bread stuffing is a great way to go.
Simply sauté shallots with some celery and fresh herbs, mix them with the bread and chicken broth and bake. Of course, a dollop of gravy over top doesn't hurt either. This stuffing can be assembled ahead of time, then baked right before the meal is served.
Traditional bread stuffing with shallots and herbs
Serves 6
Ingredients:
4 cups white bread
4 cups wheat bread
1 tablespoon olive oil
1 tablespoon unsalted butter
2/3 cup chopped celery
1/3 cup minced shallots
1 tablespoon minced fresh sage
1 tablespoon minced fresh thyme
1/3 cup chopped Italian parsley
1/4 teaspoon ground nutmeg
1/4 teaspoon salt
1/4 teaspoon pepper
1-1/4 cups low-sodium chicken (or turkey) broth
Directions:
Preheat the oven to 350 degrees F.
Place the bread pieces in a large bowl.
Heat the olive oil and butter in a large skillet set over medium heat, until the butter is melted. Add the celery, shallots, sage, thyme, parsley and ground nutmeg. Cook, stirring frequently, until the celery and shallots are soft, about 5 minutes.
Add the celery and shallot mixture to the bread and toss to combine. Season with salt and pepper. Pour in the chicken broth and toss again.
Lightly coat an 8 x 8-inch baking dish with cooking spray or butter. Transfer the stuffing to the baking dish and bake until the stuffing is heated through and a light crust forms on top, about 20 minutes.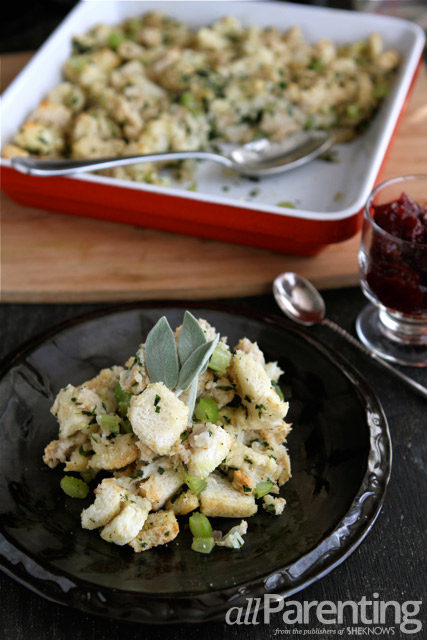 Other Thanksgiving recipes
Green bean casserole with sautéed mushrooms and shallots
Mashed potatoes with Parmesan cheese topping
Gluten-free sweet potato soufflé