Posted: Nov 19, 2012 11:00 AM
If you're in search of the perfect cocktail to serve with your Thanksgiving dinner, look no further. Try one of these cocktail recipes to complement your Turkey Day dinner.
You may have your Thanksgiving dinner menu planned, but do you have your cocktail menu set? For the adults at the table, a festive martini is the perfect drink to accompany dinner!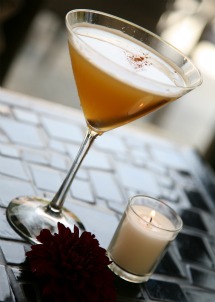 Fall Affair
Ingredients:
2 ounces Voli Orange Vanilla vodka
1/2 ounce lemon juice
1 ounce apple cider
2 dash of bitters
Directions:
Place all ingredients in a shaker.
Strain into a martini glass.
Garnish with a dash of cinnamon.

Raspberry Goddess
Ingredients: 
1-1/2 ounces Voli Raspberry Cocoa vodka
2 ounces cranberry juice
Lime squeeze
Directions:
Place all ingredients in a shaker.
Strain into a martini glass.
Garnish with a raspberry and blackberry
More cocktail recipes
Fabulous fall cocktails
Cranberry martini recipe
Caramel apple pie martini