Posted: Feb 12, 2013 7:00 PM
This healthy make-ahead salad comes together in a flash by tossing together quinoa, chicken, black beans, corn, red pepper and a simple chipotle dressing.
There's nothing more comforting than knowing that a meal is waiting in the fridge when you come home from a long day. Cook the quinoa the same day or the day before, and toss it with shredded chicken, tender black beans, red bell pepper and corn. To add a burst of Southwestern flavor, mix in a simple chipotle dressing. Make this meal even easier by using a store-bought rotisserie chicken. Simply remove the skin from the chicken and shred the breasts using two forks or your fingers.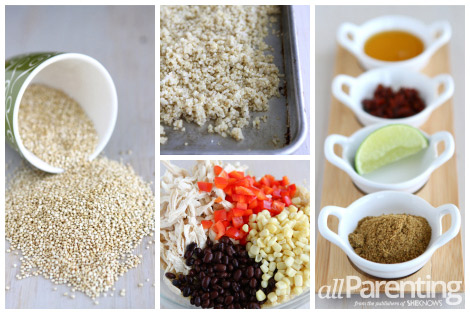 Quinoa salad with chicken, black beans & chipotle dressing
Serves 4
Ingredients:
1-1/4 cups quinoa
2-1/2 cups water
4 tablespoons fresh lime juice
2-1/2 teaspoons honey or agave nectar
1-1/4 teaspoons ground cumin
1-1/4 teaspoons seeded & minced chipotle peppers (sold in cans as chipotle peppers in adobo sauce)
1/4 teaspoon kosher salt
4 tablespoons extra-virgin olive oil
2 cooked chicken breasts, shredded
1 red bell pepper, seeded and diced
2/3 cup cooked black beans
1/2 cup fresh or frozen (defrosted) corn kernels
1/4 cup chopped fresh cilantro
Directions:
Combine the quinoa and water in a medium saucepan set over high heat. Once the water boils, cover and reduce the heat to low. Cook until all of the water is absorbed, 15 to 20 minutes. Fluff with a fork and spread onto a baking sheet to cool.
In a small bowl, whisk together the lime juice, honey, ground cumin, salt and chipotle pepper. While whisking constantly, slowly add the olive oil to the chipotle mixture. Set aside.
Stir the shredded chicken, red bell pepper, black beans and corn kernels into the quinoa. Add the chipotle dressing to the quinoa and gently toss to combine. Stir in cilantro. Serve.
Other healthy dinner ideas
Easy pork stir-fry with vegetables and hoisin sauce
Grilled chicken and arugula salad
Orange mango grilled pork chops