Posted: Nov 23, 2012 9:00 AM
National Espresso Day is Friday, Nov. 23, and what better way to celebrate than with an amazing espresso cocktail?
Looking for something a bit different for a post-Thanksgiving celebration? Espresso infused vodka sounds like just the thing to give your cocktails a bit of festive flavor. The naturally infused, caffeine-free Van Gogh Espresso Vodka has a rich coffee flavor with just a hint of citrus, while the Double Espresso Vodka packs a bold espresso punch and coffee flavor with a hint of caffeine. Why choose just one?
Double Dutch espresso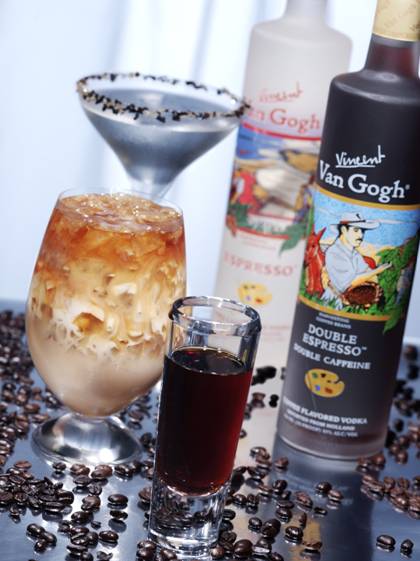 Ingredients:
2-1/2 ounces Van Gogh Double Espresso Vodka
1 ounce milk, cream or vanilla creamer
Ground cinnamon
Directions:
Pour the ingredients into a shaker with ice.
Shake vigorously and strain into a chilled martini glass.
Sprinkle lightly with ground cinnamon.
Iced Van Gogh espresso
Ingredients:
2 ounces Van Gogh Espresso Vodka
1-1/2 ounces milk or half & half
1 ounce chilled espresso
1/2 ounce chocolate or caramel syrup
Directions:
Add the vodka, chilled espresso, milk and ice into a mixing glass.
Shake well and pour into a tall glass.
Drizzle with syrup and add a dash of cinnamon.
Van Gogh Vodka is crafted in small batches by Master Distiller Tim Vos of the Royal Dirkzwager Distilleries in Tilburg, The Netherlands. For more information, please visit us at http://www.vangoghvodka.com.
More great cocktail recipes
Fantastic fall cocktails
Happy hour! Grand Marnier cherry cocktails
Mommy Mixology: Cocktails for parenting