Posted: Dec 04, 2012 5:00 AM
In this recipe, traditional Hanukkah latkes are baked rather than fried. The shredded potato pancakes are served with a bright, fresh chipotle yogurt sauce.
Potato pancakes, or latkes, are one of the dishes served during Hanukkah each year. Traditionally, they are fried in oil, then served with sour cream or applesauce. However, this recipe eliminates some of the oil by baking, rather than frying, the shredded potato pancakes. The trick is to brush a baking sheet with canola oil and heat it in the oven before dropping the potato mixture onto the baking sheet. This helps to sear the outside of the pancakes, producing a golden brown, crispy crust.
And why not take a walk on the non-traditional side and serve them with a chipotle yogurt sauce? The spicy, fresh sauce uses chipotle peppers canned in adobo sauce, which can be found in the international aisle of most supermarkets.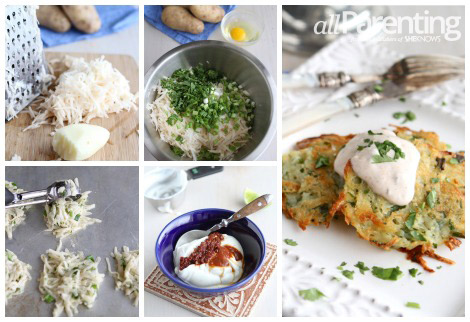 Baked potato pancakes (latkes)
with chipotle yogurt sauce
Makes 24 pancakes and 1/2 cup of sauce
Ingredients:
Sauce
1/2 cup plain Greek yogurt
1 chipotle pepper, minced
1 teaspoon adobo sauce
2 teaspoons fresh lime juice
1/2 teaspoon salt
Potato pancakes
Canola oil
2 pounds russet potatoes, peeled
6 green onions, thinly sliced
1/4 cup chopped cilantro
1 egg, beaten
1/2 cup all-purpose flour
1 teaspoon salt
1/2 teaspoon pepper
Directions:
In a small bowl, stir together the Greek yogurt, chipotle pepper, adobo sauce, lime juice and salt. Set aside.
Preheat your oven to 450 degrees F. Prepare 2 large baking sheets by brushing them liberally with canola oil.
Use the grating disc of a food processor or a hand grater, shred the potatoes, transferring them to a bowl of cold water as you go. Drain the potatoes in a colander and squeeze out the extra water by pressing down with your hands. Transfer the potatoes to a large bowl.
To the potatoes, add the green onions, cilantro, egg, flour, salt and pepper. Stir to combine.
Place 1 prepared baking sheet in the oven for 5 minutes.
Using about 2 tablespoons of the potato mixture for each pancake, drop the pancakes onto the hot baking sheet and press down slightly to spread out the pancake. Approximately 12 pancakes should fit on one baking sheet. Work quickly so that the baking sheet remains hot. Bake until the pancakes are golden brown on the bottom, about 12 minutes. Flip the pancakes and bake until they are brown on the other side, about 6 minutes. Repeat with the remaining potato mixture and the second baking sheet.
Serve hot with the chipotle yogurt sauce.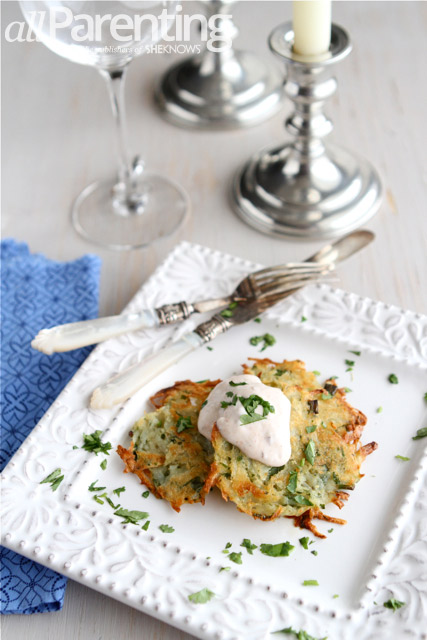 Other potato recipes
Mashed potatoes with Parmesan cheese topping
Crispy garlic herb oven fries
Gluten-free sweet potato souffle