Posted: Dec 30, 2012 5:00 PM
Whenever the telltale red cups appear at my local Starbucks, I am giddy with excitement. It means that my favorite lattes are hitting the menu too... like the refreshing but warm Peppermint Mocha. But why limit the flavors to coffee when they make a mouthwatering cupcake too?
Calling all Starbucks fans! It's peppermint mocha time... and now you can bring the latte goodness home in an absolutely fabulous homemade peppermint mocha cupcake.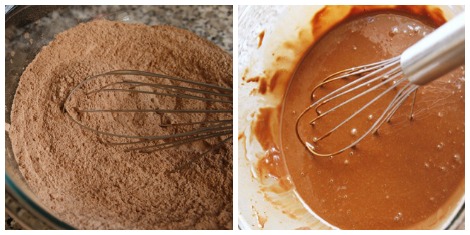 The rich chocolate mocha cupcake is topped with good, sweet peppermint frosting. Try these for your next holiday party — they are sure to draw raves.
Peppermint mocha cupcakes
Ingredients:
1 cup all-purpose flour
1/2 cup sugar
1/2 cup Dutch-process cocoa powder
3/4 teaspoon baking soda
1 teaspoon baking powder
1/2 teaspoon kosher salt
1 packet decaf instant coffee (such as Starbucks Via)
1 large egg
1/2 cup low-fat milk
1/4 cup canola oil
1 teaspoon vanilla extract
1/2 cup boiling water
Peppermint frosting (recipe follows)
Crushed candy canes (optional)
Directions:
Preheat the oven to 375 degrees F. Line 12 muffin cups with muffin liners. Set aside.
In a medium-size mixing bowl, whisk together the flour, sugar, cocoa powder, baking soda, baking powder, salt and instant coffee until it is evenly mixed. Add the egg, milk, canola oil and vanilla to the bowl. Whisk steadily for 2 minutes by hand.
Drizzle the hot water into the mixing bowl and whisk gently to combine until the batter is loose and well-combined.
Divide the cake batter evenly among the muffin cups. Bake for 18-20 minutes, until a cake tester inserted into the center comes out clean.
Let cool completely. Frost with peppermint frosting and sprinkle with crushed peppermints, if desired.

Peppermint frosting
Ingredients:
1/2 cup unsalted butter, softened
2 cups confectioners' sugar
3 tablespoons milk
1/2 teaspoon peppermint extract
Directions:
Combine the butter and the sugar in the bowl of a stand mixer. Beat until combined (on low speed and working up to a higher speed).
With the mixer running on medium, drizzle the milk into the butter mixture a little at a time until fully incorporated. Add the peppermint extract and beat well to combine.
Scrape the sides and beat one more time.
If the frosting is too loose to pipe onto the cupcakes, chill for 10-20 minutes to stiffen.
Use as desired.
More cupcake recipes
Salted caramel mocha cupcakes
Peanut butter cup cupcakes
Boston cream pie cupcakes