Posted: Dec 17, 2012 6:00 AM
A holiday meal is only as good as its side dishes, and this potato gratin is guaranteed to impress. Thin slices of potato are layered with Parmesan, Cheddar and Gorgonzola cheeses.
Holiday meals deserve show-stopping side dishes. This is the time to pull out all the stops and treat your family and friends to comfort food oozing with flavor. That's where this potato gratin comes in. Tender slices of potato are stacked with three cheeses, Parmesan, Cheddar and Gorgonzola, and baked to ooey-gooey perfection.
The beauty of this dish, besides the glorious melted cheese and potatoes, is that it can be made ahead. Slice the potatoes and assemble the gratin earlier in the day, then pop it in the oven before your guests arrive. As they're sipping on cocktails and nibbling at appetizers, the aroma of the melting cheese will whet their appetite for the main event.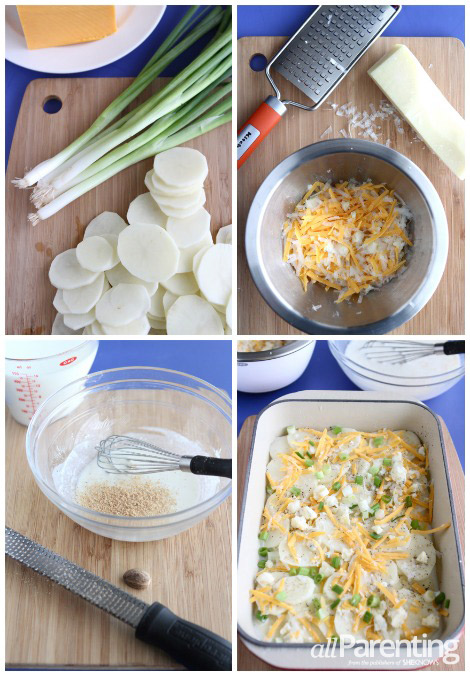 Three cheese potato gratin
Serves 6 to 8
Ingredients:
2-1/2 pounds russet potatoes, peeled
1/2 cup (packed) grated extra-sharp Cheddar cheese
1/2 cup crumbled Gorgonzola cheese
1/3 cup grated Parmesan cheese
2 cups reduced-fat (2 percent) milk
1 tablespoon, plus 2 teaspoons all-purpose flour
1/2 teaspoon grated nutmeg
1-1/2 teaspoon salt, divided
1-1/2 teaspoon ground pepper, divided
2 green onions, thinly sliced (white and green parts)
Instructions:
Preheat the oven to 400 degrees F. Coat an 11- by 7-inch baking dish with cooking spray.
Using a knife, mandolin or food processor, thinly slice the potatoes into 1/4-inch rounds. Place the potatoes in a bowl of cold water until ready to use so that they don't turn brown.
In a medium bowl, combine the Cheddar, Gorgonzola and Parmesan cheeses.
In another medium bowl, whisk together 2 tablespoons of milk and the flour until well combined. Whisk in the remaining milk and the nutmeg.
Layer half of the potatoes in the prepared baking dish. Pour half of the milk mixture over the potatoes. Season with half of the salt and pepper. Sprinkle half of the cheese mixture and half of the green onions over the potatoes.
Layer the remaining potatoes over the cheese, and pour the rest of the milk mixture evenly over the potatoes. Cover tightly with foil and bake for 40 minutes.
Remove the foil, sprinkle the rest of the cheese mixture over the potatoes, and cook until the potatoes are tender and the cheese is golden brown, about 40 minutes.
Remove from the oven and the let the gratin rest for 15 minutes before serving. Garnish with the remaining green onions and serve.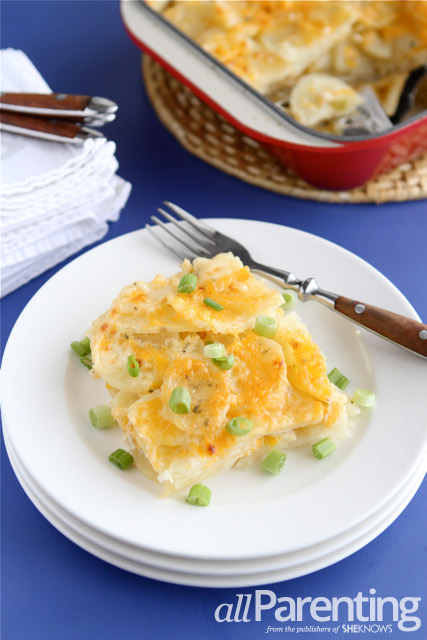 Other holiday party ideas