Posted: Dec 14, 2012 11:00 AM
Turn that classic Champagne cocktail into a holiday delight with this pomegranate Champagne cocktail. This light and refreshing drink is the perfect aperitif to the start of any dinner party or get-together. After all, what's a party without a little bubbly?
It's that time of year! We're throwing parties, holiday get-togethers and taking advantage of the festive spirit this season brings. Brighten up your holiday party with a beautiful and delicious pomegranate Champagne cocktail. You don't have to use pricey Champagne either. A NV (non-vintage) Champagne or a domestic sparkling wine both work beautifully for this sparkling wine cocktail.
The twist on a classic Champagne cocktail will be sure to put you in the holiday spirit with the vibrant red color and floating pomegranate seeds. Prep your Champagne flutes ahead of the party and pour the bubbles in right when your guests arrive. Who wouldn't want to be greeted at the door with a palate-pleasing Champagne cocktail?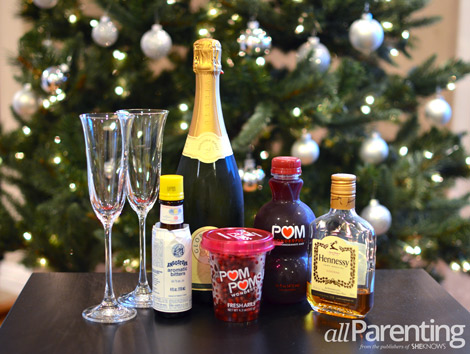 Pomegranate Champagne cocktail
Makes 1
Ingredients:
1/4 ounce cognac
2 dashes Angostura bitters
1 ounce pomegranate juice
3 ounces Champagne (or other sparkling wine) 
Pomegranate seeds
Directions:
Add the cognac and bitters to your Champagne flute.
Pour the pomegranate juice into the flute.
Slowly pour the Champagne into the flute to fill to the top.
Sprinkle in a few pomegranate seeds. Enjoy!
More cocktails to try
Cranberry martini recipe
Cherry lemon drop martini recipe
Caribbean martini recipe