Posted: Dec 19, 2012 9:00 AM
Got 20 minutes? Then you have enough time to whip up a batch of these easy chocolate truffle pies. The silky chocolate is heaven in a bite... and perfect with homemade whipped cream.
If my family could choose one dessert recipe for me to make at Christmas every year, it would probably be this one. These pies are heavenly! Rich, silky chocolate truffle filling is the perfect end to the holiday meal. And since they are individual sized, they are super easy too... no cutting or cleanup necessary.
Talk about a merry treat.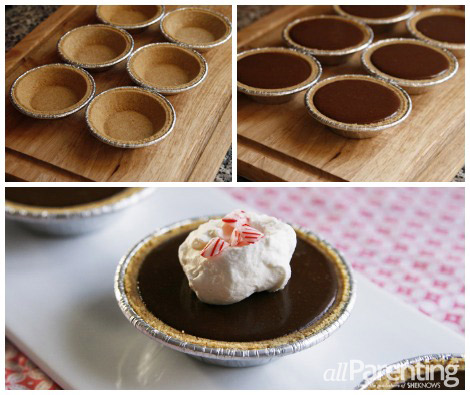 Mini chocolate truffle pies
Serves 8
Ingredients:
9-1/2 ounce dark chocolate (60 percent cocoa recommended), broken into pieces
8 mini graham pie shells (see note below)
1 (12 ounce) can fat-free evaporated milk
2 large egg yolks
1 tablespoon granulated sugar
Homemade whipped cream (optional)
Directions:
Start by preparing your ingredients. This comes together quickly, so this step is important. First, add the chocolate pieces to the bowl of a full-size food processor (it needs the chute!) fitted with a multi-purpose blade. Then, lay out your pie crusts so they are ready to go.
Once that's done, combine the evaporated milk, egg yolks and sugar in a small saucepan. Set it over medium-low heat and cook, whisking almost constantly for 8-10 minutes, until it's slightly thickened and very, very hot. Don't let it boil.
With the food processor running on its lowest speed, drizzle the hot ingredients into the bowl of the processor in a steady stream. Let run for 30 seconds. Then turn it off and open, using a spatula to scrape down the sides of the food processor. Process again for 1-2 minutes, until completely smooth.
Divide the mixture evenly among the waiting pie shells. Transport carefully to the fridge and chill for at least 3 hours. The pies will harden during this process.
Serve with a dollop of whipped cream, if desired.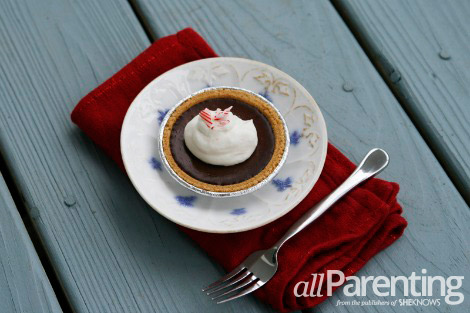 Tips
If you have guests who avoid gluten or who just don't like crust or graham, you can also pour the truffle pie filling into individual treat cups (they are stuff cups used for nuts, candies, etc.) for a crustless version.
Beware! The chocolate mixture may splatter while processing. Cover the chute as soon as possible and don't forget your apron.
If desired, garnish with crushed candy canes, nuts or toffee bits.
More dessert recipes
Salted caramel mocha cupcakes
Peanut butter cup cupcakes
Boston cream pie cupcakes