Posted: Jan 20, 2013 10:00 PM
These lightened-up enchiladas are packed with lean chicken, black beans, corn and red bell peppers. Use your favorite enchilada sauce and some queso cheese for a punch of flavor.
My family is smitten with Mexican and Southwestern flavors, and enchiladas always elicit a cheer when they're served. However, classic versions laden with sour cream (and more cheese than one person should encounter in a week) always leave me feeling guilty and somewhat dissatisfied.
This lightened-up version highlights the fresh flavors of red bell peppers, corn, black beans and lean chicken. Ground cumin, minced jalapeños and enchilada sauce add a kick of Southwestern flavor. And we can't forego the cheese altogether. Rather than piling on the Monterey Jack and Cheddar cheeses, mix a modest amount of queso fresco with the filling and sprinkle the rest on top. There will be just enough gooeyness to satisfy your family.
The enchiladas can be made ahead the day before, then popped into the oven for a quick meal on a busy night.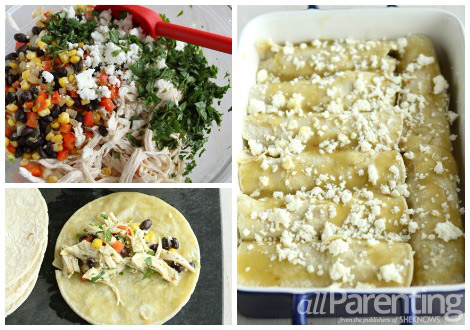 Chicken enchiladas with black beans, corn and red pepper
Serves 4 to 6
Ingredients:
4 cups green enchilada sauce, divided
1/2 medium yellow onion
1/2 red bell pepper, diced
1/2 seeded jalapeño pepper, diced
2 cloves garlic, minced
3/4 teaspoon ground cumin
1/2 teaspoon salt
1/4 teaspoon ground pepper
3/4 cup black beans, drained and rinsed
3/4 cup frozen corn kernels, defrosted
2 cooked boneless, skinless chicken breasts
1/4 cup chopped cilantro
1 cup crumbled queso fresco (Mexican cheese), divided
14-16 corn tortillas
Chopped cilantro for garnish
Sour cream, if desired
Instructions:
Preheat the oven to 350 degrees F.
Coat two 7- x 11-inch baking dishes with cooking spray. Spread 1/2 cup of the enchilada sauce on the bottom of each dish.
Heat the olive oil in a medium skillet set over medium heat. Add the onion, red bell pepper, jalapeño pepper and garlic, and cook until the onions and peppers are tender, about 5 minutes. Add the black beans and corn, and stir to combine.
Using two forks or your hands, shred the chicken breasts.
In a large bowl, stir together the shredded chicken, black beans mixture, cilantro, 1/3 cup of queso fresco cheese and 1/2 cup of the enchilada sauce.
Pour 1-1/2 cups of the enchilada sauce into a shallow dish. Dip both sides of one corn tortilla in the sauce, then lay the tortilla on a cutting board. Scoop 1/4 cup of the chicken mixture onto the tortilla and spread it in a row down the center. Roll up the tortilla into an enchilada and place into one of the prepared baking dishes.
Repeat with the remaining tortillas and chicken mixture. Spread 1/2 cup of the enchilada sauce and sprinkle 1/3 cup queso fresco over each batch of enchiladas. Bake until the enchilada sauce is bubbling and the cheese is melted, about 20 minutes. Serve, garnishing with chopped cilantro and sour cream, if desired.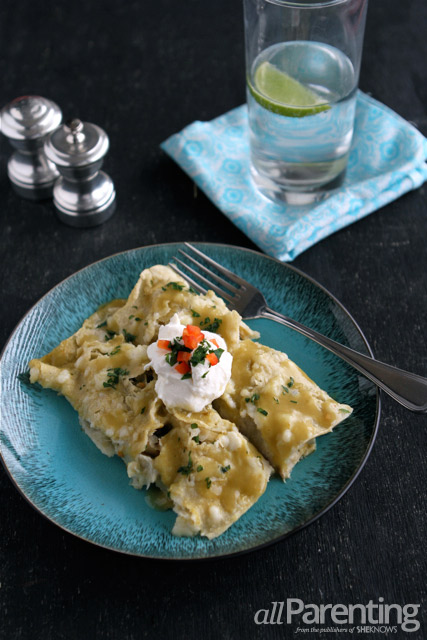 Healthy and tasty weeknight meals
Quinoa salad with chicken, black beans and chipotle dressing
Easy pork stir-fry with vegetables and hoisin sauce
Classic roast chicken