Posted: Dec 21, 2012 11:00 AM
Does the cheese ball ever wear out its welcome at a holiday party buffet? No way! These festive cheese ball varieties will be the hit of your Christmas cocktail party.
Contributed by Lauri Jo Bennett
Creating a delicious — and festive — cheese ball is super-easy with these tips from Lauri Jo.
Lauri Jo's cheese ball
Ingredients:
2 (8 ounce) packages plain cream cheese
1/2 (9 ounce) jar Lauri Jo's Pineapple Pepper Jelly
16 ounces shredded fiesta blend cheese
8 ounces sharp cheddar cheese
2 tablespoons Worcestershire sauce
1/2 teaspoon salt
1/2 teaspoon pepper
1/2 teaspoon garlic
1/2 teaspoon Greek seasoning
1/4 teaspoon crushed red pepper
Directions:
Mix the ingredients together in a large bowl.
Cover and chill overnight.
Serve with crackers.
Optional: Mold the cheese into holiday shapes.
Decorate as a Christmas tree using parsley, cherry tomatoes, a lemon peel and a cheddar cheese star.
Transform your cheese ball into a pinecone using almond slivers.
Turn it into a pear by using paprika, a basil leaf and cinnamon stick.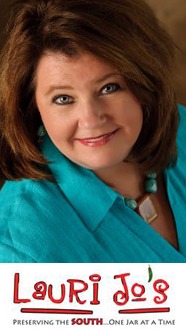 Lauri Jo Bennett of Lauri Jo's Southern Style Canning is a lively, warm, Southern-accented, stay-at home mom turned food entrepreneur who volunteers with and hires special needs students. Lauri Jo is a former special education teacher who worked with the Georgia Department of Economic Development's Center of Innovation for Agriculture's "Farm to Fork" Program to create her own company. After being a stay-at-home mom for 15 years, she began making jellies and salsa to give away as gifts for her husband's company, and demand for her delicious products led to the start of her business in 2009. Lauri Jo personally oversees all aspects of production, from selecting fresh, choice local produce, to the final processing and shipping. She proudly shops with local farmers, supporting her Southern roots and creating natural, homemade and mostly gluten-free jellies, jams, pickled goods and more.
Images courtesy of Lauri Jo's
More holiday recipes
Three-cheese potato gratin
Traditional bread stuffing with shallots and herbs
Gluten-free sweet potato soufflé