Posted: Jan 10, 2013 5:00 AM
This easy pasta pairs lean pork and sautéed mushrooms with a sauce made of chopped garlic and chili flakes that are simmered in olive oil and white wine.
There are times when nothing hits the spot more than a big bowl of pasta. This version pairs lean pork and sautéed mushrooms with a sauce made of chopped garlic, simmered in olive oil and white wine. Toss them all together, grate some Parmesan cheese on top of the pasta and serve alongside a green salad for a complete meal. Even though the sauce is comprised of nothing more than olive oil, white wine, garlic and chili flakes, you will be surprised at the depth of flavor.
With a slightly more sophisticated sauce than the standard tomato sauce from the jar, this pasta dish is quickly elevated to dinner party status. Your guests never need to know that this dinner is one you easily whip up on a weeknight.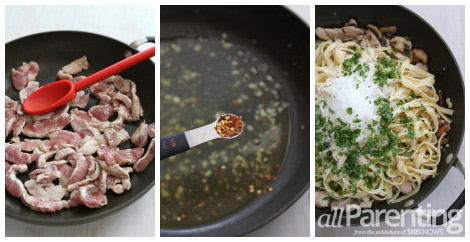 Pork, mushrooms and fettuccine in garlic wine sauce
Serves 4
Ingredients:
1 pound fettuccine pasta
1 (1-1/5 pound) pork tenderloin, thinly sliced, then cut in half
 12 ounces crimini (Baby Bella) mushrooms, thinly sliced
 1/4 cup plus 2 tablespoons extra-virgin olive oil
 3 garlic cloves, minced
 1 pinch crushed red chili flakes
 3/4 cup dry white wine
 1/2 teaspoon salt
 1/2 teaspoon ground pepper
 1/2 cup finely grated Parmesan cheese, plus more for serving
 1/4 cup (packed) chopped fresh flat-leaf parsley
Instructions:
Bring a large pot of salted water to a boil. Add the pasta and cook until al dente. Drain the pasta into a colander.
While the pasta is cooking, add 1 tablespoon of olive oil in a large skillet set over medium heat. Add the pork tenderloin and cook until just slightly pink inside, about 2 minutes. Transfer the pork to a bowl and keep warm.
Heat an additional tablespoon of olive in the same skillet. Add the mushrooms and cook until they are tender, about 4 minutes. Transfer to the bowl with the pork and keep warm.
In the same skillet, pour in the remaining olive oil and heat it over medium heat. Add the garlic and red chili flakes and cook, stirring, for 1 minute. Pour in the white wine and cook at a rapid simmer for 3 to 4 minutes.
Add the pasta, pork and mushrooms to the sauce and toss to combine.
Add the Parmesan cheese and parsley and toss again. Serve immediately and top with additional grated Parmesan cheese.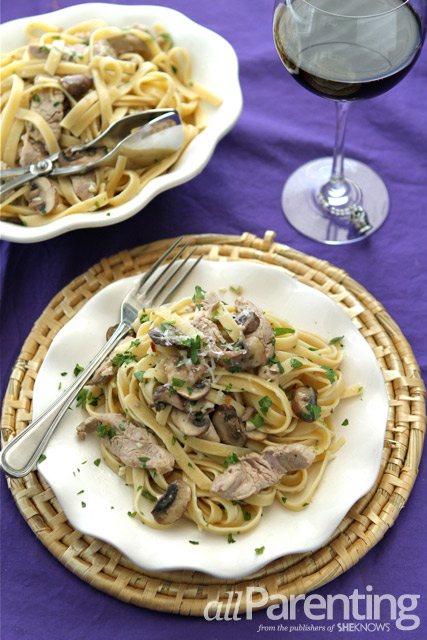 Other comforting meals
Roasted pumpkin and crispy prosciutto macaroni and cheese
Roasted pumpkin, Swiss chard and sausage pasta
Mini chicken pot pies