Posted: Jan 15, 2013 5:00 AM
Quickly cooked shrimp is tossed with a spicy, tangy yogurt dressing and avocado, then tucked inside of pitas for an easy, healthy meal.
Everybody loves a meal they can eat with their hands, and this spicy (but not too spicy) shrimp pita sandwich fits the bill on a busy weeknight, or for lunch with friends. What's even better is that the creamy dressing, made with Greek yogurt and a dollop of light mayonnaise, is actually low-fat. Minced jalapeño peppers and fresh lime juice give the dressing some zing, and balance nicely with cooling avocado and cucumber.
Serve the sandwiches alongside a salad and, if you're feeling a little naughty at lunchtime on a Saturday afternoon, a glass of white wine.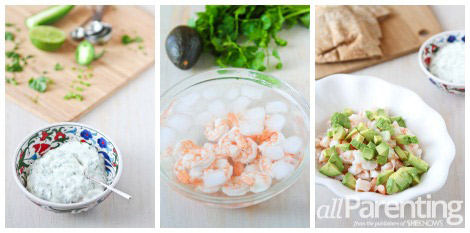 Spicy shrimp pita sandwich with yogurt dressing
Serves 4
Ingredients:
1/2 cup plain Greek yogurt

3 tablespoons light mayonnaise

1 teaspoon fresh lime juice

2 teaspoons minced jalapeño pepper

1/4 teaspoon salt

3 tablespoons minced cilantro

1 pound shrimp, shelled and deveined

1/2 ripe avocado, chopped

Salt and pepper, to taste

2 whole wheat or white pita breads, cut in half

16 slices cucumber
Directions:
In a medium-sized bowl, stir together the Greek yogurt, mayonnaise, lime juice, jalapeño, salt and cilantro. Set aside.

Prepare a large bowl full of ice water.

Set a large saucepan of water over high heat, and bring the water to a boil. Add the shrimp and cook until the shrimp is just opaque inside, about 1-1/2 minutes. Drain and immediately plunge the shrimp into the ice water to stop the cooking.

Drain the shrimp and chop it. Transfer the shrimp to a medium-sized bowl and stir in 3/4 of the yogurt dressing and the avocado. Taste and season with salt and pepper, if desired.

Spread the remaining yogurt dressing in the 4 pita halves. Scoop the shrimp mixture into the pitas and tuck 4 slices of cucumber inside of each sandwich. Serve.



Other healthy weeknight meals
Chicken enchiladas with black beans, corn and red pepper
Easy pork stir-fry with vegetables and hoisin sauce
6 Slow cooker meals the whole family will love