Posted: Feb 25, 2013 4:00 AM
You asked for more, so here you go! These original slow cooker recipes submitted by bloggers, chefs and foodies nationwide will surely become part of your winter recipe repertoire. Fill your crock-pot with some delicious ingredients, then forget kitchen duties for a little bit and let that baby do its work. Come dinner, you'll feel like someone else made the meal for once. Bonus!
Slow cooker veggie lasagna
Lasagna is always a hit with the kids, but it can be a laborious process. Who has time for that? Not you, but now you don't have to. With this Slow Cooker Veggie Lasagna, provided by Produce for Kids, you'll get all the taste of cooking in the kitchen all day without actually cooking in the kitchen all day.
Ingredients:
2 tablespoons olive oil
2 cups mushrooms, chopped
1 cup green bell pepper, seeded, chopped
1 large onion, finely chopped
3 cups spinach, loosely packed, chopped
1 pound 2 percent cottage cheese
2 cups (plus 1/2 cup) shredded mozzarella cheese, divided
1/4 teaspoons salt
26-ounce jarred low-sodium pasta sauce
2 large zucchini, sliced, 1/4-inch thick rounds
8 ounces no-boil whole wheat lasagna noodles
Directions:
Heat the oil in a large skillet over medium-high heat, then add the mushrooms, peppers, onions and spinach.
Cook 5 minutes, or until the water evaporates. Season with salt and pepper.

In a mixing bowl, mix the cottage cheese, 2 cups of mozzarella cheese and salt.
Divide into two portions.

Grease the slow cooker. Cover the bottom with 1/3 of sauce and assemble as follows: single layer noodles, 1/3 of cooked vegetables, single layer zucchini, 1 portion of cottage cheese mixture, single layer of noodles.
Repeat layering once in same order. Add a layer of the remaining sauce, cooked vegetables and zucchini.

Sprinkle 1/2 cup of mozzarella cheese on top.

Cook on low for 5 hours or until the noodles and zucchini are tender.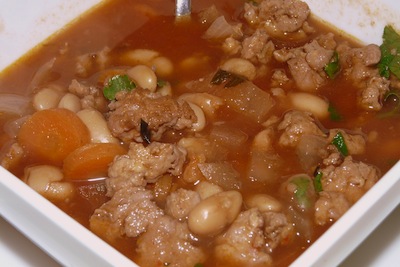 Slow cooker Italian chicken sausage and bean stew
Food blogger Colleen Fields admits this Slow Cooker Italian Sausage and Bean Stew is her favorite crock-pot recipe, saying: "It is hearty, spicy and the absolute hit of every meal I serve it
 at. I love the combination of the spicy Italian sausage, the buttery Great
 Northern beans, the tender carrots and the slightly sweet tomato broth." The kicker? "It's good for you too." We're sold!
Ingredients:
1 pound bulk spicy Italian chicken sausage, cooked and crumbled
2 cans (3 cups) Great Northern beans, drained and rinsed
6 medium carrots, sliced
1 medium onion, diced
3 cloves garlic, minced or pressed
1 can (6 ounces) tomato paste
1/2 teaspoon dried thyme
1/2 teaspoon dried oregano
4 cups salt-free chicken broth
1 cup full-bodied, dry red wine (preferably Italian)
1/2 teaspoon coarse sea salt (omit if using a store-bought chicken broth)
1 bay leaf
6 tablespoon fresh Italian parsley, chopped

Directions:

Combine the chicken sausage, beans, carrots, onion, garlic, tomato paste, herbs, broth, wine and salt in the slow cooker and stir well.
Add the bay leaf, submerging in the liquid.
Cover and cook on low for a minimum of 6 to 8 hours.
Serve with each bowl topped with 1 tablespoon of chopped fresh Italian parsley.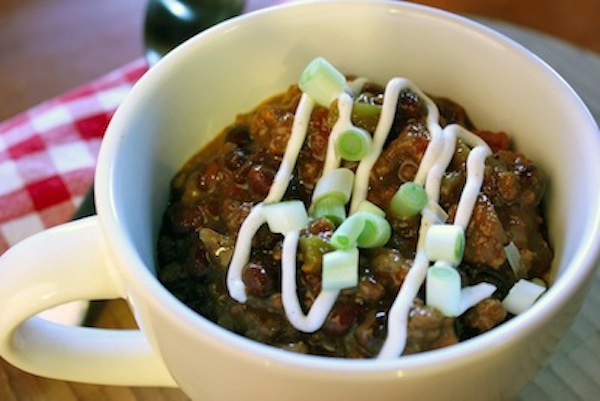 Beef & espresso chili with cayenne cream
This recipe from Fresh! A Personal Chef Service owner Chris Henry, who insists she was "hardly able to boil water" before teaching herself to cook, is proof that even novice cooks can give their crock-pots a go. Dial back the chili powder and cayenne pepper for little mouths.
Ingredients:
1-1/2 pound extra-lean ground beef

4 teaspoons extra-virgin olive oil, divided

1-1/2 cups diced yellow onion (about 1 large)
2 green bell peppers, seeded and chopped

1 pound tomatoes, chopped

1 (15 ounce) can black beans, drained and rinsed
2 cups low-sodium beef broth

2 tablespoons instant espresso or coffee granules

2 tablespoons chili powder

2 teaspoons ground cumin

1 tablespoon organic evaporated cane juice

1-1/4 teaspoons sea salt

1 cup sour cream

1/8 teaspoon ground cayenne pepper, or to taste

2 green onions, finely chopped
Directions:
In a large, non-stick skillet over medium-high heat, add the beef and cook, breaking up with a wooden spoon until browned, about 4 minutes.
Transfer to a 4-quart slow cooker.
In the same skillet, heat 1 teaspoon of oil.
Add the yellow onion and cook for 4 to 5 minutes, until browned.
Transfer to slow cooker and add the green peppers, tomatoes, beans, broth, espresso, chili powder and cumin.
Stir well, cover and cook on low for 8 hours or on high for 4 hours.
Turn off heat and stir in the cane juice, remaining 3 teaspoons of oil and salt.
In a small bowl, combine the sour cream and cayenne pepper.
Cover and refrigerate until serving.
Top chili with the sour cream mixture and garnish with green onions.
Beer-broth beef stew
This crock-pot mealis one that I modifed from my mom's recipe. The beer makes for a rich and delicious sauce that we sop up with fresh French or Sourdough bread.

Ingredients:
2 pounds stew meat, cubed
1/4 cup flour
1/2 teaspoon salt
1/2 teaspoon pepper
1 clove garlic, minced
1 bay leaf
1 teaspoon paprika
1 teaspoon worcestershire sauce
1 white or yellow onion, chopped
1 1/2 cups beer of your choice or beef broth
3 white potatoes, cubed
4 carrots, sliced
1 celery stalk, cut into 1-inch pieces
Directions:
Mix flour, salt and pepper, and toss meat with this dry mixture. Put it in the crock pot.
Add the remaining ingredients in order listed.
Cook on high for 4 to 6 hours.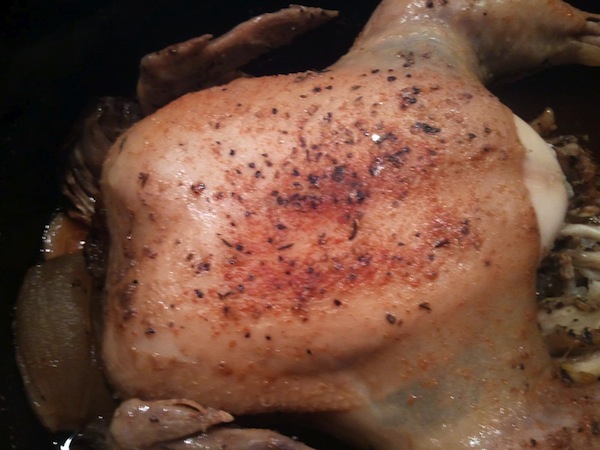 Foolproof rotisserie slow cooker chicken
Family dinner ideas are endless when you start with a juicy rotisserie chicken. This super-simple recipe from food blogger Jorj Morgan will cost you half the price of a store-bought rotisserie chicken!
Ingredients:
1 whole organic chicken, about 3-1/2 pounds
2 teaspoons sea salt
1 teaspoon paprika

1 teaspoon onion powder

1/2 teaspoon dried thyme

1 teaspoon Italian seasoning

1/2 teaspoon cayenne pepper 

1/2 teaspoon coarse ground black pepper
1 large white onion, peeled and quartered, about 1 cup
4 medium garlic cloves, peeled and sliced, about 1 tablespoon
Directions:
In a small bowl, combine the salt, dried herbs, seasoning and pepper.
Rub the chicken all over with the blend. Peel and quarter a whole onion, and peel and slice 4 cloves of fresh garlic.
Stuff the cavity of the chicken with the onion and garlic.
Lay the chicken breast side down into the slow cooker. Do not add water.
Cook on high for 4 to 5 hours or on low for 8 hours.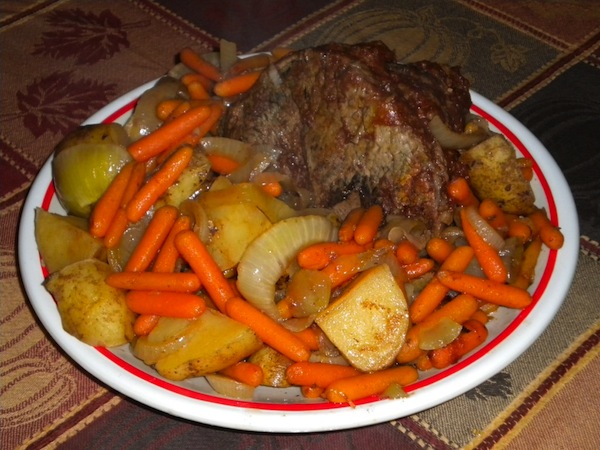 Yummy scrumptious crock-pot roast beef
Mom Elaine Stephens says her crock-pot roast beef makes for a "heavenly Sunday dinner and a special treat any night of the week."
Ingredients:
3-pound shoulder or bottom round roast beef

4 baking potatoes, quartered

2 medium yellow onions, sliced

1 pound bag peeled baby carrots

11-ounce bottle Nathan's Original Coney Island Steak Sauce
Directions:
Place the roast beef in the center of your crock-pot.

Add the potatoes around it on the bottom of the crock-pot.

Spread the carrots over the potatoes.

Spread the onions over the top of the roast beef and other vegetables.

Shake and pour the steak sauce over the roast beef and vegetables evenly.

Set the crock-pot to high and cover for 3 hours.

Turn the crock-pot down to low to finish cooking for 1 hour.
Serve with the au jus on the side.
More must-have recipes
6 Slow cooker meals with whole family will love
Mini chicken pot pies
Healthy foods your kids won't hate
Main image courtesy of Produce for Kids