Posted: Feb 12, 2013 7:00 PM
Start off your New Year right with the luck of the black-eyed pea. A hearty and delicious soup is the perfect way to get your fill of luck and yummy soup all at the same time!
Delicious, comforting and warming soups are just what we all need during the cold winter months. Cold weather in January calls for a lucky New Year's black-eyed pea dish. Black-eyed peas are thought to bring prosperity and good luck for the New Year. Eating black-eyed peas with smoked sausage, veggies and fresh spices gives them so much more flavor.
To save on time, instead of soaking dried black-eyed peas, you can use canned or even frozen. However, I encourage you to use the dried beans! Top this soup with homemade croutons for added crunch and top with crème fraiche to add scrumptious creaminess.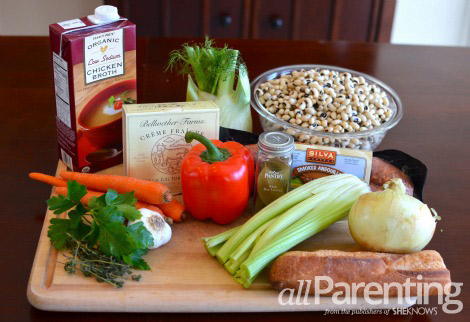 Homemade croutons
Ingredients:
1 French baguette
Olive oil
Directions:
Preheat your oven to 425 degrees F.
Cut the French baguette into crouton-size pieces.
Place on a baking sheet and drizzle with olive oil. Using your hands, toss to coat.
Bake in the oven for 6 to 8 minutes, until slightly brown and crunchy.
Set aside.
Black-eyed pea soup
Ingredients:
1 pound dried black-eyed peas
1 tablespoon extra-virgin olive oil
1 pound smoked andouille sausage, thinly sliced
1 onion, chopped
4 celery stalks, chopped
1 small fennel bulb halved lengthwise, cored and chopped
3 carrots, peeled and chopped
1 red bell pepper, seeds and stem removed, chopped
2 garlic cloves, chopped
1 teaspoon fresh thyme, chopped
1 bay leaf
6 cups chicken stock
Crème fraiche
Finely chopped fresh flat leaf Italian parsley
Kosher salt and freshly ground pepper
Directions:
Sort the black-eyed peas and place them in a large bowl. Cover with cold water, remove any floating peas and soak overnight.
Before cooking, drain and rinse the peas.
In a large Dutch oven pot, heat the olive oil and brown the sausage slices for about 8 to 10 minutes. Remove with a slotted spoon and set aside.
Add the onion, celery, fennel, carrots, red bell pepper and garlic to the pot. Sauté for 15 to 20 minutes.
Add the black-eyed peas, chicken stock, bay leaf, and thyme. Bring to a boil and then simmer covered for about 1 hour until the peas are tender.
Add the sausage back into the pot and cook for 10 to 15 minutes.
Remove the bay leaf and add the salt and pepper according to taste.
Ladle into some bowls and garnish with homemade croutons, a dollop of crème fraiche and sprinkle with fresh parsley.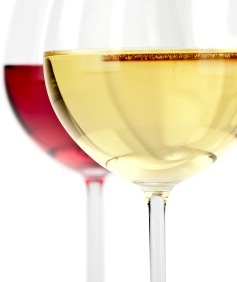 Rachel's suggested wine pairing

This hearty, down-home soup gets a little kick from the smoked andouille sausage — so pair this dish with a fruity, low-tannin red. Try a Barbera which has deep color, is full of flavor, but has very little tannic structure. Also try a Tempranillo which has enough body but won't overpower the soup.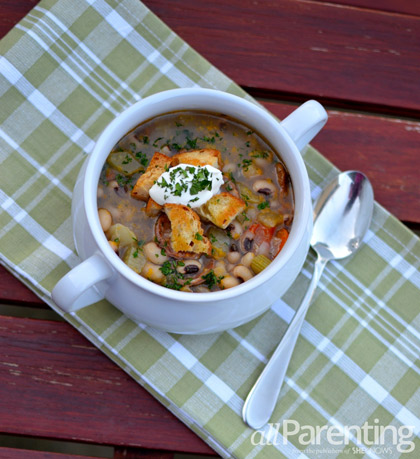 More comforting recipes
Mini French onion soup recipe
Fall squash soup shooters
Chicken enchiladas with black beans, corn and red pepper