Posted: Jan 18, 2013 6:00 AM
Looking for a perfect game day treat? Whip up these homemade pretzel bites stuffed with melty cheddar cheese.
Think fast. The game's coming on and you want a really tasty snack to munch on. What do you do?
Grab a few pantry items and whip up these salty, cheesy pretzel bites. Come on! Your family will love these.
And if the idea of making your own pretzels scares you, don't let it. Homemade pretzels — even stuffed ones — can be easy and delicious to make yourself. Best of all? They don't take long. These only take about 30 minutes to whip up.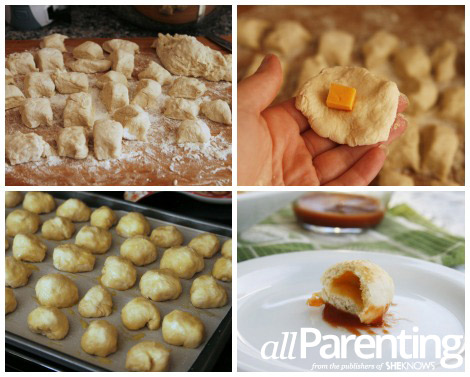 Cheddar stuffed pretzel bites
Yields 40 pretzel bites (serves 8)
Ingredients:
1 package dry active yeast
1-1/2 cup warm water
1 tablespoon granulated sugar
4 cups all-purpose flour
2 teaspoon salt
1 large egg
4 ounce sharp cheddar cheese block, cut into 40 cubes
Coarse salt
1 tablespoon unsalted butter
Directions:
Preheat the oven to 425 degrees F degrees. Line a baking sheet with parchment paper.
In a large bowl, sprinkle the yeast onto the warm water. Let it sit until the yeast dissolves (about 2-3 minutes). Stir the sugar into the yeast mixture until dissolved.
Add the flour and salt. Stir to combine. The dough will be crumbly. Turn the dough out onto a floured board and knead with floured hands until smooth.
Divide the dough into 4 portions. Working with one at a time, roll the dough balls out into ropes about 1 inch in diameter. Use a sharp knife to cut 1-inch lengths of dough.
Working with one piece of the dough at a time, press to flatten and then place one cube of cheddar on top, folding the dough around it and pinching the seams to seal. Place on the prepared baking sheet.
In a small bowl, lightly beat the egg. Brush each dough ball with the egg wash and then sprinkle with coarse salt.
Slide the tray into the oven and bake for 12-15 minutes, until light golden brown. Repeat the process until all the dough has been cooked.
Serve with dipping sauces such as taco sauce, honey mustard or barbecue sauce.
Tip
We like these pretzel bites lightly golden brown — but you can cook these to a deeper golden if you prefer.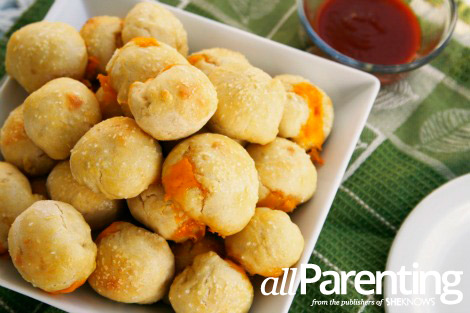 More recipes
Brussels sprouts, served up three ways
Gluten-free sweet potato soufflé
Roasted pumpkin and crispy prosciutto macaroni and cheese