Posted: Jan 22, 2013 5:00 AM
Shrimp are roasted in olive oil and garlic, then simmered in tomato sauce and feta cheese for a taste of Greek flavors. Serve this over a plate of spaghetti or rice for a complete meal.
Sometimes it's the simplest ingredients and the easiest methods that produce the most memorable meals. This is one of those cases. Infused with garlic, lemon and olive oil, the shrimp are roasted in the oven before being simmered in a homemade tomato sauce. Add some tangy feta cheese and you have a meal reminiscent of something you might find on the Greek islands.
The trick is to be sure not to overcook the shrimp, as the little darlings have a habit of becoming rubbery when cooked past their prime. Roast the shrimp until they are barely opaque and then finish them off by gently simmering them in the tomato sauce. Serve the shrimp and sauce over hot spaghetti or a mound of rice, alongside a green salad, for a healthy meal packed with Mediterranean flavors.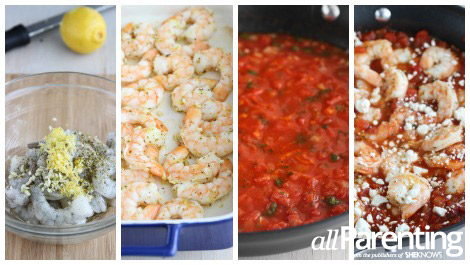 Roasted shrimp with tomatoes & feta cheese
Serves 4
Ingredients:
The shrimp:
1 pound large shrimp, peeled and deveined
2 teaspoon olive oil
3 cloves garlic, minced
1 teaspoon grated lemon zest
1/2 teaspoon dried oregano
1/2 teaspoon salt
1/4 teaspoon ground pepper
The tomato sauce:
2 teaspoon olive oil
1/2 medium yellow onion, chopped
2 garlic cloves, minced
1 can (28 ounces) petite diced tomatoes
1/3 cup feta cheese
Salt and pepper, to taste
Directions:
The shrimp:
Preheat the oven to 500 degrees F.
In a large medium-sized bowl, toss the shrimp with the olive oil, lemon zest, oregano, salt and pepper.
Transfer the shrimp to an oven-proof dish and spread in a single layer.
Roast until the shrimp are pink and just cooked through, approximately 5 minutes.
The tomato sauce:
Heat the olive oil in a large skillet set over medium heat.
Add the onions and cook until tender, 7 to 8 minutes. Add the garlic and cook for additional 30 seconds.
Stir in the diced tomatoes, with their juices, and bring the mixture to a simmer. Simmer until the sauce begins to thicken, about 15 minutes.
Stir in the feta cheese and roasted shrimp and simmer to combine flavors, 2 to 3 minutes. Serve over pasta or rice.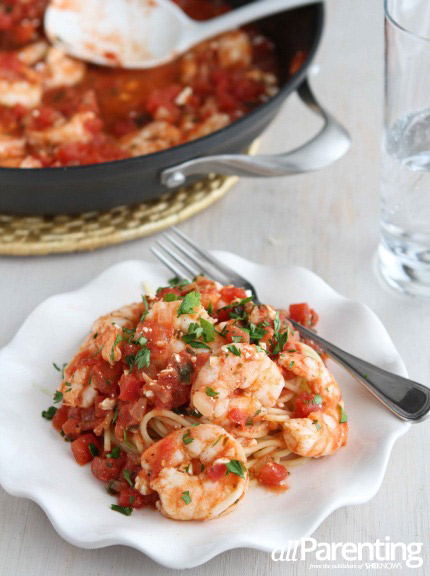 Other fish and seafood recipes
Honey soy grilled salmon with edamame
Spicy shrimp pita sandwich with yogurt dressing
Salmon kebabs with quinoa and grapefruit salad