Posted: Jan 27, 2013 5:00 PM
Make pizza night easy by topping store-bought naan bread with pre-made pesto, shredded rotisserie chicken, roasted red peppers and fresh mozzarella cheese.
Every Friday, my family looks forward to pizza night. I often mix up a batch of our favorite pizza dough but, admittedly, there are times when I just don't feel that energetic. That's where I fall back on naan bread, which is a traditional Indian bread served with curries. Many higher-end grocery stores carry plain, whole wheat or flavored naan, and it works beautifully as a make-shift pizza dough. Top it with pre-made pesto and meat from a rotisserie chicken for a flavorful, fun meal.
Since this is pizza, and pizza is notoriously versatile, you could use almost any toppings that appeal to you. Layer on strips of roasted red pepper, as I did here, or replace those with mushrooms, olives or onions (or all three). Alternatively, get the whole family involved by laying out a selection of toppings, and letting each person top the pizzas with their favorite ingredients.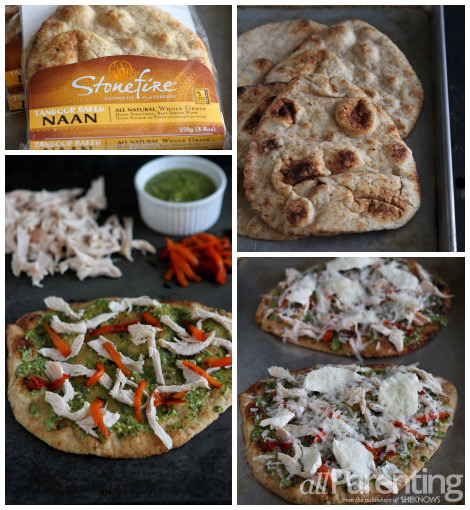 Mediterranean chicken naan pizza with pesto
& fresh mozzarella
Serves 4
Ingredients:
4 pieces whole wheat or regular naan bread
3/4 cup store-bought basil pesto
1 cooked skinless chicken breast, shredded (about 1-1/4 cups)
1 roasted red bell peppers (2 halves), cut into strips
4 ounces fresh mozzarella cheese, thinly sliced
1/2 cup grated Parmesan cheese
Directions:
Preheat the oven to 425 degrees F.

Spread 3 tablespoons of pesto on each piece of naan bread.

Divide the shredded chicken, roasted peppers, mozzarella cheese and Parmesan cheese evenly between the 4 pieces of naan.

Place two of the prepared pizzas on a large baking sheet and bake until the bread is golden brown around the edges and the cheese is melted, 8 to 10 minutes. Bake the remaining 2 pizzas.

Transfer the pizzas to a cutting board, let them rest for 5 minutes, then cut into quarters. Serve.

Other recipe ideas for the weekend
Pork, mushrooms and fettuccine in garlic wine sauce
4 Easy crostini party appetizers
Abbey cocktail