Posted: Jan 24, 2013 12:00 PM
If you are looking for a simple new dessert recipe, these quick and easy toffee blondies are just the thing. Sweet and chewy with a tasty toffee crunch, they make the perfect after-dinner treat warmed and topped with ice cream.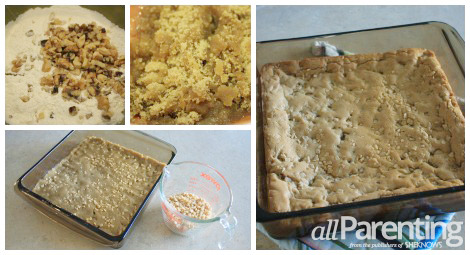 Toffee crunch blondies
Serves 8
Ingredients:
1 cup sifted flour

1/2 teaspoon baking powder

1/8 teaspoon baking soda

1/2 teaspoon salt

1/2 cup chopped walnuts

1/3 cup butter, melted

1 cup packed brown sugar

1 egg, beaten

1 tablespoon vanilla extract

Toffee bits
Directions:
Preheat your oven to 350 degrees F. Grease a 9 x 9 x 2-inch dish.

Combine the flour, baking powder, baking soda and salt. Sift. Stir in the walnuts until well combined.

Stir together the melted butter and brown sugar. Allow to cool slightly.

Mix in the beaten egg and vanilla and stir until well blended.

Begin adding the flour, a small portion at a time, and continue mixing until combined.

Spread into your prepared dish and sprinkle the toffee bits over top, using as many or as little as you like

Bake for 20-25 minutes.
Tips
Not a fan of nuts? Just skip them!

Do you prefer chocolate over toffee? Replace the sprinkled toffee with chocolate chips.
More dessert recipes
Gingerbread latte cupcake recipe
Mini chocolate truffle pie recipe
Perfect peppermint bark