Posted: Jan 28, 2013 5:00 AM
Combine your favorite flavors of macaroni and cheese and a burger into one delicious dish. Loaded with pasta, cheese and burger meat, everyone will be scrambling to scoop out seconds and thirds!
Who doesn't love macaroni and cheese or a big fat juicy burger? Now you can have the flavors of both in a creamy, delicious weeknight pasta dish. And let's face it, homemade macaroni and cheese is so much better than the boxed stuff and so easy to make.
Not only is this recipe easy to make, it doesn't take forever and even the kids can help. Have the kids add the spices, grate the cheese and even whisk the creamy cheese sauce!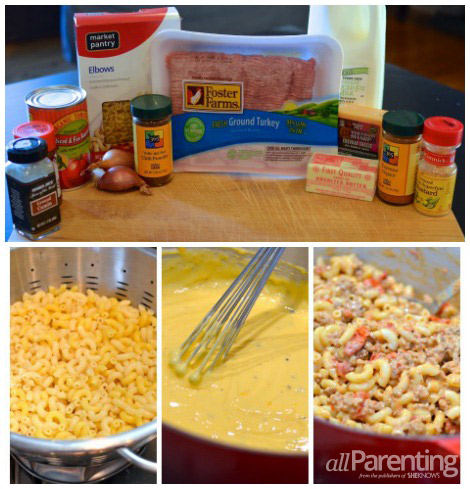 Macaroni and cheeseburger
Ingredients:
1 tablespoon extra-virgin olive oil
2 shallots, chopped
1 garlic clove, chopped
1 pound ground beef or turkey meat
1-1/2 teaspoons chili powder
2 teaspoons cumin
1/2 teaspoon seasoned salt
1/2 teaspoon freshly ground pepper
1 can diced fire-roasted tomatoes
12 ounces elbow macaroni
2 tablespoons butter
2 tablespoons flour
1-1/2 cups hot, not boiling, milk
1 teaspoon dry mustard
Dash of cayenne pepper
3/4 pound sharp cheddar cheese, shredded
Kosher salt and freshly ground pepper
Directions:
In a large saucepan, heat the olive oil over medium heat. Add the shallots and garlic. Sauté for 8 minutes or until the shallots are soft.
Add the meat and cook until browned. Add the chili powder, cumin, seasoned salt and pepper. Stir to combine. Add the tomatoes and cook for 5 more minutes.
Meanwhile, cook the elbow macaroni according to the package directions. Drain and set aside.
In a large pot, melt the butter and slowly add in the flour. Whisk together over medium-low heat. Continue whisking the butter and flour for about 5 minutes until well combined and be careful not to let it burn.
Slowly add in the milk and whisk together. Add the dry mustard and dash of cayenne pepper. Lower the heat and whisk until smooth and thick. Remove from the heat and stir in the shredded cheese until melted. Add the sprinkles of salt and pepper to taste.
Pour in the elbow macaroni and ground meat mixture. Stir to combine.
Serve the macaroni and cheeseburger and enjoy!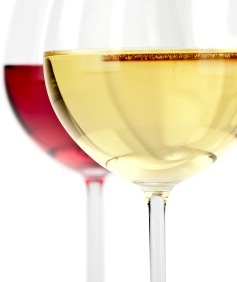 Rachel's suggested wine pairing

Macaroni and cheese is a rich dish so it needs to be paired with a wine that works with the richness but also works with the seasonings and tomatoes. If we want to complement the dish, try a chardonnay with crisp acidity and tropical fruit to cut the richness of the dish, but that also has a little creaminess to go with the creaminess of the cheese sauce. Or we can look to contrast the dish with a sparkling wine. The acid in the sparkling wine will cut through the richness of the macaroni and cheese while the bubbles will cleanse your palate for the next bite!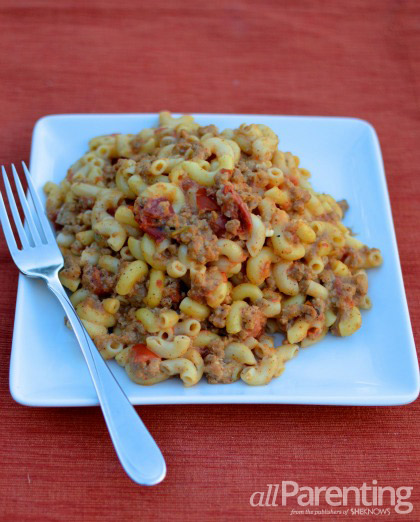 More weeknight dinners
Roasted pumpkin and crispy prosciutto macaroni and cheese
Broccoli pesto pasta
Grilled chicken and arugula salad