Posted: Feb 01, 2013 5:00 AM
When the teams kick off at the big game in New Orleans on Feb. 3, what will you be serving up? These tantalizing, tempting dishes from top blogs are perfect for an unforgettable game day spread.
Cocoa Rice Krispies football treats
Another super treat for your game day spread: Cocoa Rice Krispies Football Treats from Cooking on the Side. Not only are they deliciously cute, but how fun to make rice cereal footballs — completely with frosting laces — for the game day celebration? The kids will be all about these.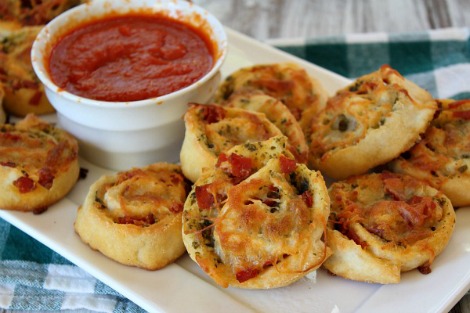 Pizza pinwheels
If your kids love pepperoni pizza, they will adore these pesto, pepperoni and cheese stuffed Pizza Pinwheels from Recipe Girl. Leave a bowl of marinara out for dunking and let the kids enjoy this flavorful finger food.

Buffalo Ranch chicken bites
Love bite-sized dishes for your game day shindig? Me too. And these dreamy Buffalo Ranch Chicken Bites on What Megan's Making are perfect. They are filled with a creamy mixture of chicken, hot sauce, cheese and Ranch dressing — cool, spicy and delicious.

Victory ale pretzel bites
How gorgeous are these Victory Ale Pretzel Bites from Miss in the Kitchen? They are like lick-your-screen good. A batch of these is perfect party food for digging into while watching football, but they probably won't last long so make extra.

Teddy Graham trail mix
Party food is never complete without some bowls of easy to grab snackers — and Teddy Graham Trail Mix from Elle's New England Kitchen is a just-right sweet (and a little salty) version. Everyone will love grabbing handfuls of this colorful combo.

Apple nachos
Who says that nachos have to be cheesy, crispy piles? These sweet Apple Nachos from Chocolate Moosey version feature apples (instead of chips) and is topped with marshmallow fluff, caramel, peanuts and chocolate chips. Decadent! And yet, you can kind of feel good about these with the apples, right?

Super Bowl sundaes
Looking for something sweet and fabulous for your game day feast? These Super Bowl Sundaes from In Katrina's Kitchen are all that. Look at the nonpareil people! The stadium! The ice cream field! You will totally win cool points for this dessert.

Pickle dip
Are your kids pickle fanatics like mine? If so, they will dig (ha!) this creamy Pickle Dip from Buns in my Oven. Sure the combination of cream cheese and pickles isn't your typical fare, but try it.
More recipes
Cheddar-stuffed pretzel bites
Brussels sprouts, served up three ways
Roasted pumpkin and crispy prosciutto macaroni and cheese