Posted: Feb 04, 2013 5:00 AM
Serve a traditional noodle dish, symbolizing longevity, for Chinese New Year. This version is filled with flavorful beef and healthy bok choy.
Chinese New Year marks the beginning of the Chinese calendar each year, and the 15-day celebration is filled with traditions to rid the household of evil spirits and welcome in good fortune for the coming year. If you are lucky enough to witness a Chinese New Year celebration, you are likely familiar with the impressive dragon and lion dances. However, most people don't realize the extent of the food traditions that help to usher in happiness, wealth and longevity.
One of the traditional foods eaten during the celebration is noodles. Noodle dishes are thought to bring longevity, and cooks are encouraged to keep the noodles as long as possible to encourage a long life. This version pairs fresh Chinese noodles with tender pieces of flank steak and fresh baby bok choy. The noodles are coated in a stir-fry sauce made of only three ingredients, and flavored with sautéed fresh ginger and garlic.
Most of the ingredients used can be found in most well-stocked supermarkets or in Asian markets.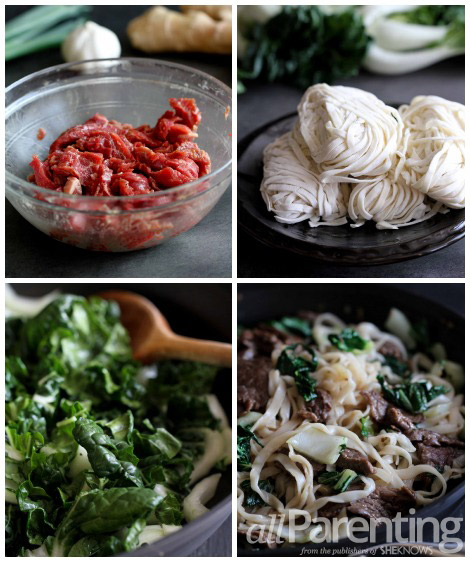 Chinese beef & bok choy noodles
Serves 4
Ingredients:
The steak:
3 teaspoons soy sauce
1 teaspoon cornstarch
1 teaspoon rice vinegar
1 teaspoon canola oil
1 pound flank steak, thinly sliced & pieces cut in half
The stir-fry sauce:
1/4 cup plus 2 tablespoons oyster sauce
2 tablespoons rice wine or dry sherry
4 teaspoons rice vinegar
The rest:
1 pound fresh wheat or egg Chinese noodles
1 tablespoons plus 2 teaspoons canola oil, divided
1 tablespoon minced fresh ginger
2 cloves garlic, minced
3/4 pound baby bok choy (approximately 4 heads), chopped, white and green parts separated
Directions:
The steak:
In a medium bowl, whisk together the soy sauce, cornstarch, rice vinegar and canola oil. Add the steak and stir to lightly coat.
The stir-fry sauce:
In a small bowl, whisk together the oyster sauce, rice wine (or dry sherry) and rice vinegar. Set aside.
The rest:
Cook the noodles according to the package instructions. Drain and rinse with cold water. Set aside.
Place the bok choy in a colander and rinse with water. Do not dry.
Heat 2 teaspoons of canola oil in a large nonstick skillet. Add the white parts of the bok choy and cook, stirring, for 1 minute. Add the green parts of the bok choy and cook for 1 additional minute. Transfer to a bowl.
Heat 1 tablespoon of canola oil in the same large skillet. Add the flank steak and cook, stirring, until the steak is browned, but still a little pink on the inside.
Add the stir-fry sauce to the steak and cook for about 30 seconds. Stir in the noodles and heat until warm. Add the cooked bok choy and toss to combine. Serve.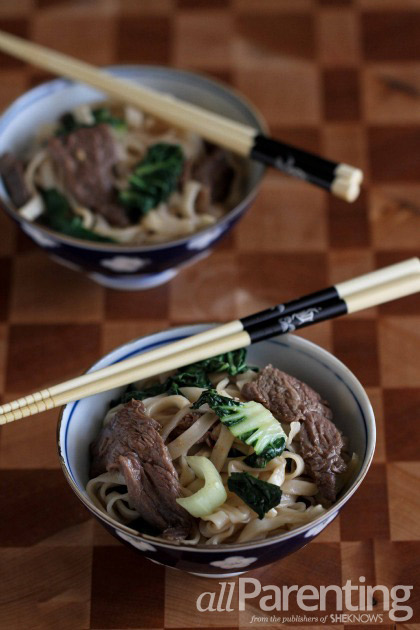 Other tempting pasta recipes
Penne pasta in vodka sauce with vodka cocktails
Pork, mushrooms and fettuccine in garlic wine sauce
Garlic lemon prawns and summer squash capellini