Posted: Feb 07, 2013 8:00 AM
A romantic evening at home to celebrate Valentine's Day is becoming more and more popular. Stay home and have a delicious, cozy, romantic dinner while sipping on fantastic wine. Below are some delicious and romantic wines, perfect for your stay-at-home evening!
My favorite thing to do on Valentine's Day is to stay in at home and have a delicious, cozy, romantic dinner while sipping on fantastic wine. Avoid the hoopla at over-priced restaurants and just enjoy your partner's company at home. The meal doesn't have to be fancy, just something we both love. A special occasion wine does not have to be overpriced either.
Here are my top wines to help you celebrate Valentine's Day in style without breaking the bank!
Celebrate your love with bubbles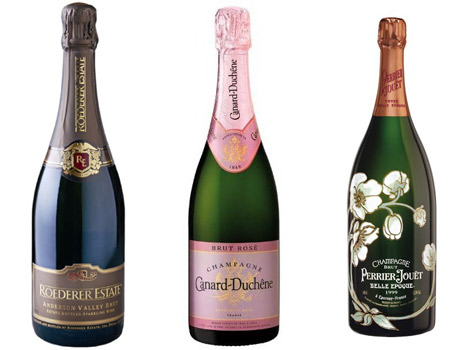 Youthful, nice mouth feel and crisp with acidity, these bubbles are simply divine to sip on for a day celebrating love. Start your evening at home off right with these bubbles!

Canard-Duchene Authentic Brut Rosé $40

This French Rosé Champagne is elegant and classy with lovely fruit. Delicate, pink and delicious, perfect for Valentine's Day!

Perrier-Jouet Fleur de Champagne Belle Epoque 2004 $140

Splurge with a vintage from Champagne, France. Elegant and lovely with lively acidity, nothing more says I love you than vintage Champagne!
All dressed up with a lovely white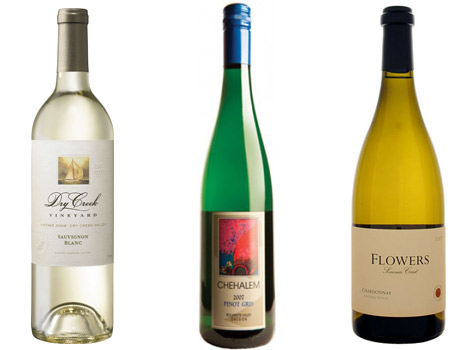 Dry Creek Vineyard Sauvignon Blanc $18

A light, crisp white wine that has wonderful acidity and pairs wonderfully with a variety of foods. It's juicy and delicious, perfect to sip over a light Valentine's Day meal!

Chehalem 3 Vineyard Pinot Gris $20

A fruity and smooth white wine that pairs wonderfully with just about any food. Embrace the floral notes and sweet fruit this Valentine's Day.

Flowers Sonoma Coast Chardonnay $40

Attractive, sexy and delicate, the perfect white wine to enjoy on Valentine's Day. This wine is fresh and mouthwatering with beautiful fruit notes and white flower.
Nothing says I love you more than red, red wine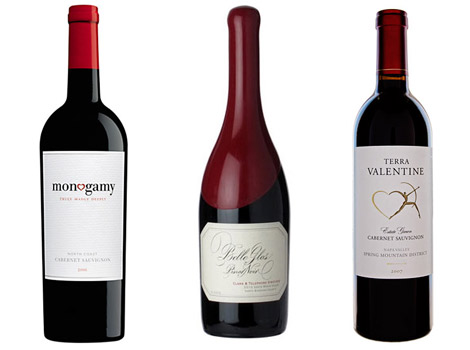 Monogamy Wines Cabernet Sauvignon $12

Truly. Madly. Deeply. Fall in love this Valentine's Day with a classic Cabernet Sauvignon. Complete with dark fruits, such as blackberry, black cherry and plum, this Cabernet is smooth and velvety.

Belle Glos Clark & Telephone Vineyard Pinot Noir $40

A smooth and supple Pinot Noir that you will love to sip on. This Pinot Noir is known for its characteristic brown spices such as cinnamon, nutmeg and clove with deep cranberry and raspberry flavors.

Terra Valentine Spring Mountain District Cabernet Sauvignon $45

A big, bold Cabernet Sauvignon that will pair nicely with a hearty grilled steak dinner this Valentine's Day. And how perfect that Valentine is in the name of the wine?
More holiday wine guides
Best of bubbles for New Year's Eve
Thanksgiving wine guide
Wicked wines for Halloween