Posted: Feb 06, 2013 5:00 AM
Toast your loved one with this creamy, luxurious dish for two and a glass (or two) of red wine. Use a mixture of wild mushrooms for fantastic flavor and texture.
Valentine's Day is the time to show your adoration for your loved one, and there is no better way to do so than with a thoughtful meal that is sure to knock their socks off. Risotto is a very romantic dish, one that develops slowly with tender care and attention. The robust flavor of the mushrooms are supported by the rich taste of beef broth and red wine, and the rice takes on a creamy texture as it simmers in the broth.
Using a variety of mushrooms adds a mixture of textures and flavors. If you can't find shiitake mushrooms at your grocery store, substitute porcini or portobello mushrooms.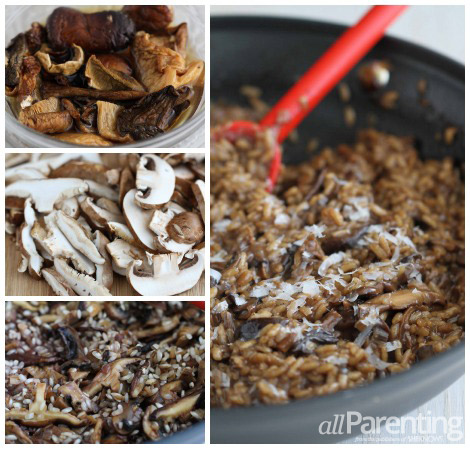 Creamy wild mushroom risotto for two
Serves 2
Ingredients:
1/2 ounce mixed dried mushrooms
1/2 cup hot water
5 cups (approximately) beef broth
2 bay leaves
2 teaspoons olive oil
2 large shallots, minced
2 garlic cloves, minced
3 ounces sliced shiitake mushrooms (about 1 cup)
3 ounces sliced crimini mushrooms (about 1 cup)
3/4 cup Arborio rice
1/3 cup dry red wine
1/4 cup grated Parmesan cheese
Salt and pepper, to taste
2 tablespoons minced Italian parsley
Directions:
Place the dried mushrooms in a small bowl and pour the hot water over top. Let the mushrooms soak for 30 minutes. Dice the mushrooms and save the soaking liquid.

In a medium saucepan set over medium-high heat, stir together the beef broth, bay leaves and reserved mushroom soaking liquid. Bring to a boil, then reduce the heat to maintain a low simmer.

Heat the olive oil in a large skillet or saucepan set over medium heat. Add the shallots and cook, stirring occasionally, until the shallots are soft, but not browned, about 3 minutes. Add the garlic and cook for an additional 30 seconds.

Add the shiitake and crimini mushrooms and cook, stirring occasionally, until the mushrooms are tender, about 5 minutes. Add the chopped dried (reconstituted) mushrooms and cook for 1 more minute.

Add the rice and cook, stirring constantly, about 2 minutes. Add the wine and cook for 1 more minute.

To the rice, add the broth by the ladleful (about 1/2 cup), stirring constantly and allowing the rice to absorb the broth before adding the next ladleful.

Continue with the remaining broth until the rice is tender.

Move the risotto off the heat and stir in the Parmesan cheese. Taste and season with salt (if necessary) and pepper.

Serve immediately and garnish with the parsley.



Other ideas for a romantic Valentine's meal
Mini chocolate truffle pie
How to make chocolate bowls
Pomegranate Champagne cocktail