Posted: Feb 08, 2013 5:00 AM
It's easy to bring the French Quarter to your kitchen and indulge in some king cake, also known as monkey bread, when you start with refrigerated biscuit dough. Sink your teeth into this easy Mardi Gras king cake recipe before Fat Tuesday has come and gone!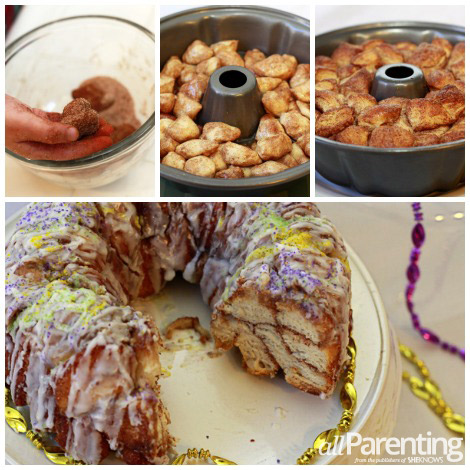 Mardi Gras king cake
Ingredients:
2 cans of refrigerated biscuit dough (non flaky)
1/4 cup plus 1/2 cup white granulated sugar, separated
1 tablespoon cinnamon
Bundt pan
Non-stick spray
1/4 cup butter
1/4 cup brown sugar
1/4 cup milk
Glaze:
2 cups sifted powdered sugar
2 tablespoons lemon juice or 1/2 teaspoon vanilla extract
2 tablespoons water
Milk (optional for thinning)
Purple, yellow and green colored sugar or sprinkles
Directions:
Preheat the oven to 350 degrees F and spray a bunt pan with non-stick spray.
Combine the cinnamon and 1/4 cup of white sugar in a bowl and set aside.
Cut each round of biscuit dough into fourths and have your kiddos help roll each piece in the cinnamon and sugar mixture. Layer the coated biscuit pieces in the bunt pan. For those making a king cake, hide the plastic baby, a pecan, a plastic coin or dried bean within the layers.
Melt the butter, brown sugar, 1/2 cup of white sugar and milk over medium-low heat until melted. Pour over the biscuit pieces in the bunt pan.
Bake 30-45 minutes, watching biscuits for doneness.
For the glaze, mix the powdered sugar, flavoring and water in a separate bowl until smooth. Add the milk, a teaspoon at a time, until thinned to the desired consistency and set aside.
Once the king cake is done baking, remove from the oven and pan to plate and pour the glaze over the warm monkey bread. Be sure to dust with sprinkles or colored sugar immediately or the sprinkles roll right off. Let cool and serve!
Read more sweet treat recipes
Cake batter pancakes recipe
Mini chocolate truffle pie recipe
Cranberry swirl cheesecake