Posted: Jan 30, 2013 10:00 AM
Is your dessert routine getting stale? Looking for a new treat that is tart, creamy and sweet? Try this deliciously easy trifle made with Snickers, green apples, caramel and fluffy layers of whipped cream cheese.
When I came across this pin by my sister I knew I had to make it. As a lover of green apples and Snickers, the fact that I had never before combined them baffled me. So, following directions from DessertedPlanet, I whipped this tasty treat up. If you are looking for a new, quick and not too costly dessert idea give this one a whirl. Keep in mind that it yields a lot, so it is best served with a crowd... or not.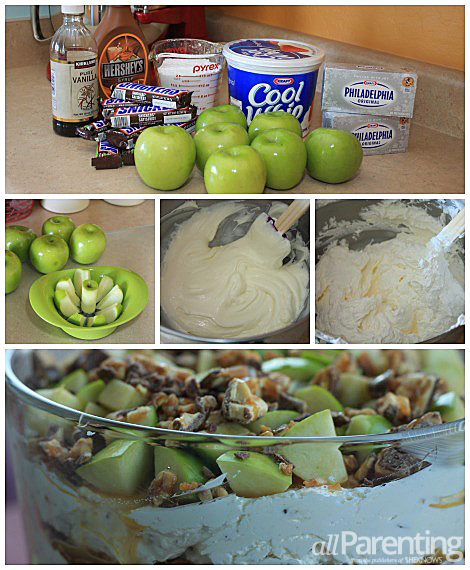 Apple Snickers trifle
Serves 25
Ingredients: 
2 (8 ounce) packages of cream cheese, softened

2 cups powdered sugar

1 tablespoon vanilla extract

1 (16 ounce) tub of Cool Whip

6 cups Granny Smith apples, chopped (approximately 6 apples)

10 full-size Snickers, chopped

Caramel sauce
Directions:
Add the cream cheese to your mixer and beat until smooth.

Slowly stir in the powdered sugar and vanilla.

Gently fold in the Cool Whip.

Reserve about a cup of apples and 1/2 cup of the Snickers to the side for garnish.

Mix in the remaining apples and 1-1/2 cups of the Snickers.

Add a third of the mixture to the bottom of your trifle dish.

Sprinkle with half of the remaining chopped Snickers.

Spoon another third of the mixture on top, and again top with half of the Snickers.

Add the remaining mixture to the dish.

Sprinkle the apples and Snickers over top and drizzle with caramel sauce.

Refrigerate until ready to serve. Enjoy!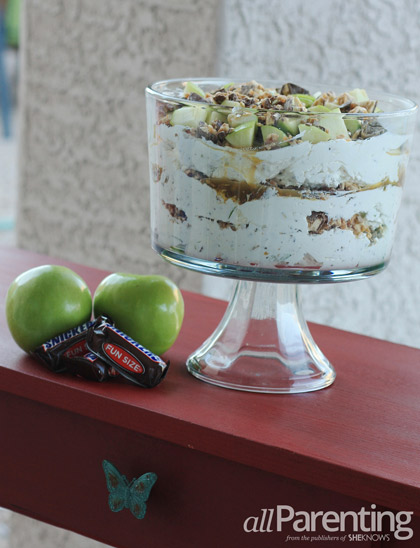 Tips
This makes a lot! You can half the recipe and make it in a smaller dish. Presentation may not be the same, but it will taste just as delicious!

Make and serve the same day. Even with refrigeration the Cool Whip causes it to become runny the next day. Again, just as delicious, but presentation isn't nearly as nice.
More tasty treats
Pumpkin spice latte cupcakes
Mini apple pie bites
Peanut butter cup cupcakes