Posted: Feb 12, 2013 8:00 AM
Crispy and sweet, these tiny treats are a perfect addition to your Valentine's Day table. Made with just three ingredients and served in little cupcake liners, we can't promise they'll last long, but we can definitely guarantee they'll be adored. Grab your favorite kitchen helper and sweeten your Valentine's Day.
We can't decide what we love most about these sweet treats. It's either their crunch and their tang or their no-fuss process and the way they come together in minutes. Either way, Cupid's clusters are a perfect Valentine's Day dessert for your school-age kids to help you make. What a sweet way to bring in this lovely holiday together!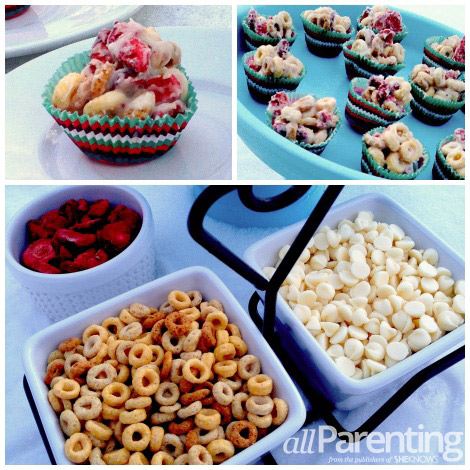 Cupid's clusters recipe
This recipe was originally found in Parents magazine.
Ingredients (equal parts):
White chocolate chips

Cheerios (multi-grain, plain or yogurt burst)
Directions
:
In a large microwave-safe bowl, microwave the chocolate chips. Stir the white chocolate every 30 seconds until the chips are melted and smooth.
Pour the Cheerios and freeze-dried strawberries into the bowl and stir well.
Scoop the mixture into mini-cupcake liners and refrigerate for 5 minutes.
Notes
Cupid's clusters are as delicious as they are simple to make. Consider making a large batch for guests or a small one for a sweet after-school treat!
More sweet treats
Ice cream sandwich recipes
Salted caramel mocha cupcakes
Mini chocolate truffle pie recipe