Posted: Feb 08, 2013 11:00 AM
We know you don't really need another reason to eat more chocolate but we've got one for you, anyway. Did you know February is Chocolate Lover's Month? In honor of this, we've decided to tempt you with these decadent and deliciously different chocolate dessert recipes provided by chefs, foodies and bloggers nationwide. These might be diet deal-breakers. You've been warned.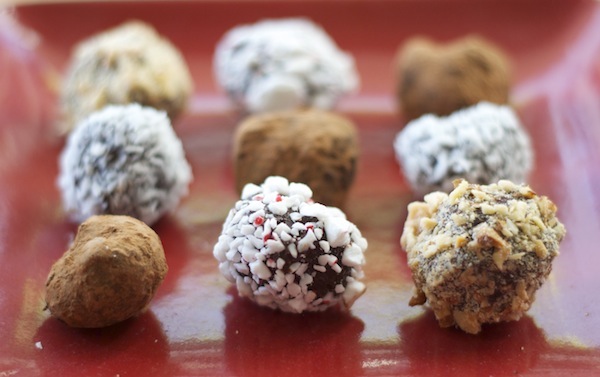 Chocolate truffles four ways
Chef Nathan Lyon, host of Good Food America on Veria Living and author of Good Food Starts Fresh, says, "Chocolate truffles are one of the most elegant bite-sized desserts out there." We happen to agree.
Ingredients:
1 cup heavy whipping cream
12 ounces dark chocolate (containing 60 percent to 72 percent cocoa solids), chopped finely
3 tablespoons unsalted butter, softened
1/16 teaspoon kosher salt
1/2 teaspoon pure vanilla extract
1/2 teaspoon each: dark rum, almond oil, peppermint oil and orange oil
1/2 cup each: Finely crushed hard mint candies, unsweetened shredded coconut and finely chopped almonds in separate bowls
1/4 cup natural unsweetened cocoa powder
Directions:
Pour the cream into a medium saucepan and stir slowly over medium-low heat to just a simmer, being careful not to let it boil.
Combine the chopped chocolate, butter and salt into a large bowl. Remove the cream from the heat and pour it over the chocolate mixture. Cover with plastic wrap.
Let the mixture sit undisturbed for 1 minute, then uncover and slowly stir with a spatula until fully incorporated. Stir in the vanilla extract.
Divide the melted chocolate evenly among four small bowls. Add the dark rum to the first bowl, the orange oil to the second, the almond oil to the third and the peppermint oil to the fourth. Cover each bowl loosely with plastic wrap and refrigerate until firm, approximately 1-1/2 to 2 hours.
Using a melon baller, small ice cream scoop, or teaspoon, scoop the chilled chocolate into 1-teaspoon portions. Quickly roll each portion of chocolate between the palms of your hand to achieve a somewhat round ball.
Gently roll each chocolate ball in one of the four separate bowls filled with the cocoa power, mint candies, shredded coconut and toasted almonds.
Transfer the coated truffles to a parchment paper-lined plate, cover loosely with plastic wrap and refrigerate until firm, approximately 30 minutes. Remove the truffles from the refrigerator 15 minutes before serving.
Note: Enjoy a little heat with your chocolate? Try stirring in some ground cayenne pepper with some melted chocolate. Whoa! Spicy. Recipe yields 40 truffles, 10 of each flavor.
Julia Baker's chocolate soufflé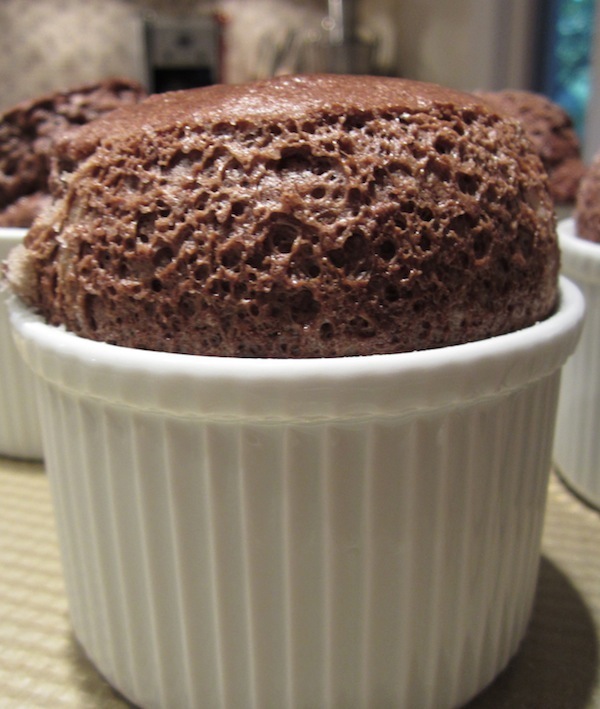 Culinary artist and confectioner Julia Baker shared the recipe for this simple and sexy chocolate soufflé. They're super easy, and you can even prepare them in advance.
Ingredients:
1 recipe ganache (see below)
5 eggs, separated
1 tablespoon cocoa powder
Pinch of salt
5 tablespoons powdered sugar
Directions:
In the bowl of an electric mixer, combine 3/4 cup room temperature ganache with egg yolks and cocoa powder.
In another bowl, whip the egg whites until soft peaks form.
Add a pinch of salt and the powdered sugar. Beat to firm peaks.
Fold the whites gently into the chocolate mixture.
Pour the mixture into 4 medium ramekins that have been buttered and coated with granular sugar.
Bake 10 to 12 minutes until they no longer shake.
Heat the leftover ganache in a double boiler or quickly in the microwave.
Break the center of each soufflé and pour a tablespoon of hot ganache into the center of the soufflé.
Ganache
Ingredients:
2 cups heavy cream
2 cups dark chocolate chips, 58 percent
Directions:
Preheat the oven to 400 degrees F.
Boil heavy cream in a medium-sized saucepan.
Pour boiling cream over chips.
Whisk until completely mixed.
Click through for vegan and Nutella cakes>>