Posted: Feb 08, 2013 11:00 AM
We know you don't really need another reason to eat more chocolate but we've got one for you, anyway. Did you know February is Chocolate Lover's Month? In honor of this, we've decided to tempt you with these decadent and deliciously different chocolate dessert recipes provided by chefs, foodies and bloggers nationwide. These might be diet deal-breakers. You've been warned.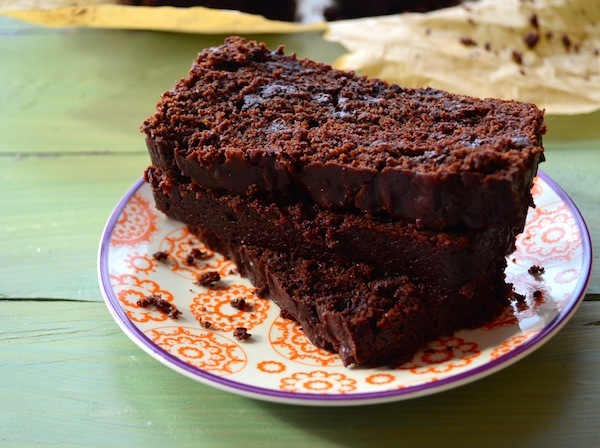 Vegan double chocolate yogurt cake
Wait... the words chocolate, yogurt and vegan rarely go together. But this cake from May I Have That Recipe looks so tempting, we're willing to give up whatever we need to just to get a taste. The best part? You don't have to dirty your measuring cups.
Ingredients:
3 tablespoon flax meal
1/2 cup chocolate soymilk
1 (6 ounce) container of vanilla soy yogurt
1 yogurt container to measure vegetable oil, 6 ounces
2/3 yogurt container to measure chocolate soymilk
2 yogurt containers to measure all-purpose, unbleached flour
1 yogurt container to measure good quality unsweetened cocoa powder
1-1/2 tablespoons baking powder
1 yogurt container to measure sugar
Pinch of salt
Cooking spray
1 cup vegan chocolate chips, coated with 1 tablespoon flour
Directions:
Preheat the oven to 350 degrees F. Line a 10 x 6 x 3-inch loaf pan with parchment paper and spray it lightly with cooking spray.
In a small bowl, mix together the flax meal and 1/2 cup chocolate soymilk. Set aside.
Combine the flour, cocoa powder, baking powder, sugar and salt in a large bowl.
In a medium bowl, mix the yogurt, vegetable oil and chocolate soymilk until smooth. Add the flax and soymilk mixture, and mix until well combined.
Pour into the flour mixture and mix all the ingredients carefully until just combined (do not overmix). Add the chocolate chips.
Pour into the prepared loaf pan and bake for an hour and 10 minutes. (You can also cut the baking time slightly it you like it extra fudgy.)
Nutella flourless chocolate cake
Mymansbelly.com creator Pamela Braun says of her recipe, "This flourless chocolate Nutella cake is so ridiculously rich and indulgent — I only serve it in small portions. Of course if you've been really, really good, I've been known to make an exception."
Ingredients:
200 grams unsalted butter
100 grams dark chocolate, chopped to small pieces
200 grams Nutella
85 grams honey
6 eggs, separated
1 teaspoon espresso powder
1 teaspoon cinnamon
1/8 teaspoon baking soda
Extra butter
Cocoa powder
Chopped hazelnuts for garnish
Chocolate syrup for garnish
Directions:
Preheat the oven to 325 degrees F and move baking rack to the lowest slot in your oven.
Using the extra butter, lightly butter and coat the bottom and sides of a 9-inch spring-form pan with cocoa powder. Dump out the excess cocoa.
Cut the 200 grams of butter into small pieces and put them in a microwave safe bowl. Add the chopped chocolate to the bowl and melt in the microwave until smooth. When melting the chocolate in a microwave, only cook in 30-second intervals and take out to stir every 30 seconds until smooth. (I use a whisk for this.)
Remove from microwave, add the Nutella to the chocolate mix and whisk until fully incorporated. Also whisk in the instant espresso powder, cinnamon and baking soda.
Separate the egg whites and egg yolks into two separate bowls. Add the honey to the yolks and beat for a minute or two with a hand mixer or a whisk. (The mixture should be well blended and a lighter yellow color.)
Add the chocolate mixture to the egg yolks and whisk to thoroughly combine.
Beat the egg whites until stiff peaks form (the peaks are stiff when they only flop over slightly). Fold the beaten egg whites into the chocolate mixture, mixing by hand until fully incorporated. (Using a wide spatula for this makes it much easier.)
Pour the mixture into the spring-form pan and place into the oven.
Bake for 30 to 50 minutes (mine was done closer to 50 minutes due to the honey). Test doneness after 30 minutes by seeing how jiggly the center of the cake is. The cake should not be completely solid when finished but the center should not move much when moved. Use a toothpick to stick in a few places to make sure it's cooked through (the toothpick should come out clean).
Let cool (the cake will deflate quite a bit) at least 30 minutes before serving, and garnish with chopped hazelnuts, chocolate syrup and whipped cream.
Whipped cream topping
Ingredients:
1 cup whipping cream
1 tablespoon confectioners' sugar
1 teaspoon bourbon
Directions:
While the cake is cooling, pour the chilled whipping cream into the bowl of a stand mixer (can also use a hand mixer for this).
Add the confectioners' sugar and bourbon to the cream.
Whip until stiff peaks form.
More decadent recipes
Salted caramel mocha cupcakes
Mini chocolate truffle pie recipe
Boston cream pie cupcakes