Posted: Jan 29, 2013 5:00 AM
This game day, delight your beer-loving guests with this rich chocolate stout cupcake.
We all know that game day is really all about the food, right? I mean, sure, seeing the teams go head to head is great. But it's the wings, nachos and desserts that really make the party special — and the beer too, if you are of age and partaking in such things.
One of my favorites? A good stout like Guinness. And since game day and cupcakes go hand in hand, these Chocolate stout cupcakes with buttermilk vanilla frosting are the perfect Super Bowl viewing dessert. They are rich, chocolatey and topped with a sweet vanilla frosting.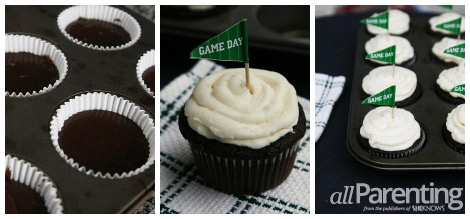 Chocolate stout cupcakes with buttermilk vanilla frosting
Yields 12 cupcakes
Ingredients:
Cupcakes:
1/2 cup stout beer
1/2 cup butter
1/3 cup cocoa powder
1 cup all-purpose flour
1 cup sugar
3/4 teaspoon baking soda
1/2 teaspoon salt
1 large egg
1/4 cup buttermilk
Frosting:
1/2 cup unsalted butter, softened to room temperature

3 cups powdered sugar

1 teaspoon vanilla extract

3-4 tablespoons buttermilk
Directions:
Preheat the oven to 350 degrees F. Line 12 muffin cups with liners.

In a small saucepan, bring the stout and butter to a simmer, whisking frequently. Sprinkle the cocoa powder in a little at a time, whisking to combine. Once it's fully combined, remove from the heat and let cool for at least 10 minutes.

Meanwhile, sift together the flour, sugar, baking soda and salt. Set aside.

In the bowl of a stand mixer fitted with the whisk attachment, combine the egg and buttermilk until pale yellow, about 1 minute. With the mixer running on medium speed, drizzle the stout mixture in a little at a time until fully combined. Fold in the flour mixture.

Divide the batter evenly among the 12 cupcake liners.

Bake for 16-18 minutes, until a toothpick inserted in the center comes out clean. Let the cupcakes cool completely before frosting.
To make the frosting:
Whip the butter in the bowl of the stand mixer until light and fluffy, about 2 minutes. With the mixer running on low, add the powdered sugar a little at a time until crumbly. Add the vanilla and mix briefly to combine. With the mixer running on medium speed, add the buttermilk, 1 tablespoon at a time, until it reaches the desired consistency.

Frost the cupcakes as desired.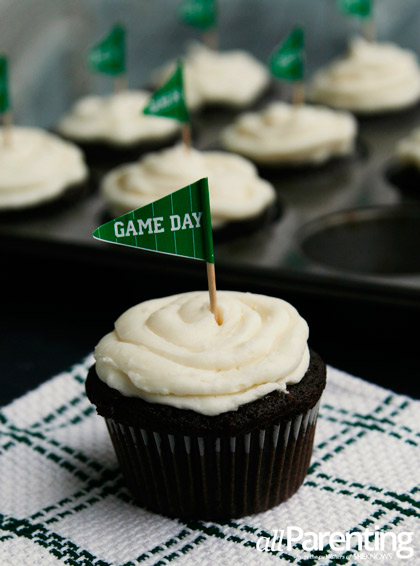 More recipes
Simple peanut butter fudge chocolate brownie
Raspberry lemonade cupcakes
Faith Hill's Coca-Cola cake recipe