Posted: Feb 11, 2013 5:00 AM
Adorn yourself with colored beads and serve up this spicy classic Cajun recipe for shrimp étouffée for your Mardi Gras celebration.
Even if you're not in New Orleans to wander down Bourbon Street with the carnival revelers during the Mardi Gras season, you can still celebrate at home. Pull out the colored beads, don a feathered mask and whip up a New Orleans specialty such as crayfish or shrimp étouffée, gumbo or jambalaya.
There are many versions of étouffée (pronounced ay-too-fay): some with tomatoes and some without, some with a thick gravy and some without, and some using a blond (lighter) roux and some using a golden brown one. The variations are as diverse and tend to pass from generation to generation, each family fiercely defending their recipe.
Étouffée is traditionally made with seafood, usually crawfish, and served over rice. Since many people don't have access to good crawfish, I made this version with shrimp. It starts with what Southern cooks refer to as the trinity, which is a mixture of green peppers, onions and celery. From there, a roux is made by cooking some flour in butter until it starts to turn light brown.
In this recipe, you'll make a shrimp stock from the shells of a shrimp. This is an easy step that will add a layer of flavor that is worth the effort. Alternatively, you can use clam juice or store-bought seafood stock. However, you may have to adjust the seasonings, as clam juice is saltier than homemade stock. After a dose of Creole seasoning, tomatoes, and hot sauce, the shrimp cook in the sauce until tender.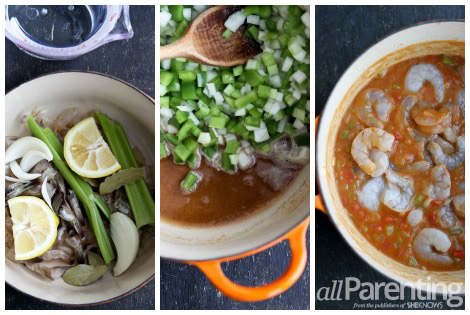 There are a few steps in this recipe, but you'll be rewarded with a richly flavored dish that will have you celebrating to the wee hours.
Shrimp étouffée for Mardi Gras
Serves 4
Ingredients:
The shrimp stock:
6 cups water
Shells from 1-1/2 pound shrimp
1 lemon, cut in 2
1 onion, quartered
2 celery stalks
4 bay leaves
The étouffée:
1/4 cup unsalted butter
3 tablespoons all-purpose flour
1 medium yellow onion, chopped
1 large stock celery, chopped
1 green pepper, seeded and chopped
2 teaspoons Cajun seasoning
3 cloves garlic, chopped
2 tablespoons dry sherry
1-1/3 cups shrimp stock
1-1/2 teaspoons Worcestershire sauce
1 (14 ounce) can petite diced tomatoes
1/2 teaspoon salt
1-1/2 pound large shrimp, shelled and deveined
1-1/2 teaspoons fresh lemon juice
2 tablespoons minced fresh parsley
Hot sauce, to taste
Directions:
The shrimp stock:
Combine all of the stock ingredients in a large saucepan, bring to a boil, reduce heat and simmer for 30 minutes.
Strain into a medium-sized saucepan and keep warm over low heat.
The étouffée:
In a large saucepan, melt the butter over medium-high heat. Add the flour and cook, stirring constantly, until the roux (the butter/flour mixture) turns light brown.
Add the onion, celery and green pepper and cook, stirring, until the vegetables are soft. Stir in the Cajun seasoning and the garlic, and cook for 30 seconds.
Stir in the sherry and cook for 2 to 3 minutes. Gradually whisk in the shrimp stock until the roux and the stock are incorporated.
Stir in the Worcestershire sauce, tomatoes and salt, bring to a boil, then simmer for about 15 minutes, or the mixture thickens.
Add the shrimp and cook until the shrimp are just cooked through, about 5 minutes.
Remove from the heat, and stir in the lemon juice and parsley. Serve over rice, with hot sauce on the side.

Other shrimp recipes
Roasted shrimp with tomatoes & feta cheese
Spicy shrimp pita sandwich with yogurt dressing
Garlic lemon prawns and summer squash capellini