Posted: Feb 12, 2013 5:00 AM
Whip up a new dessert this Valentine's Day and impress the love of your life. We've rounded up some of the best desserts from around the web just in time to help you celebrate love this Valentine's Day.
Instead of heading out and buying store bought heart cookies this Valentine's Day, why not make a new delicious dessert right in the comfort of your own home? We've rounded up some of the best desserts to celebrate love. Although these aren't all hearts, anything can feel like a Valentine's Day treat when you make it with love.
Strawberry & chocolate cream cheese Napoleon
Cream cheese is enhanced with cocoa and sugar to make a creamy filling for the Napoleons. The golden brown, flaky pastry layers are stacked with the chocolate cream cheese and fresh strawberries to make a dessert that is beautiful to look at and tastes even better. In each bite, you will experience the light crispness of the pastry, the creamy sweetness of the cream cheese and the freshness of the berries.

Chocolate lava brownies
A creamy, moist and rich brownie cupcake that will have your taste buds begging for more. You won't just be able to have one. Top each chocolate brownie mountains with homemade whipped cream or vanilla ice cream and sprinkle with fresh raspberries for a Valentine's treat.

Chocolate Kahlúa cake
Tired of that plain old chocolate cake? Try this super moist chocolate Kahlúa cake to impress your next dinner guests! Loaded with chocolate, vanilla pudding, chocolate chips and of course Kahlúa, this cake melts in your mouth and has your taste buds begging for more!

Puff pastry ravioli with gingersnap mascarpone & marionberry sauce
This puff pastry number, filled with gingersnap mascarpone cheese and served with a marionberry sauce is a perfect romantic dessert to serve this Valentine's Day. If you can't find marionberries, blackberries will work just fine.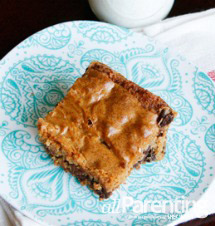 Butterscotch chocolate bars
These bars are irresistibly buttery and chocolaty — a combination that you can't go wrong with. See, what happens when you make these is the chocolate settles on the bottom creating a dual layered bar. While the bottom is all rich chocolate, the top is a buttery, sweet, salt-infused butterscotch layer. Amazing.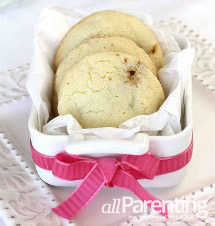 Chocolate & caramel sugar cookie
This cookie recipe uses a basic sugar cookie recipe with a piece of caramel chocolate bar tucked inside of each cookie. After the first bite, your heart will go pitter patter and you will have found your one and only valentine.
More on Valentine's Day
Top wines for Valentine's Day
Valentine's date night at home
Cupid's cluster recipe