Posted: Mar 14, 2013 5:00 AM
Crack open a Guinness, lay out the gold coins and dig into this hearty Irish stew on St. Patrick's Day.
Whether or not you color your kids' food green or sprinkle gold chocolate coins around the house, St. Patrick's Day can be a fun day to celebrate with your family. Pull on a green sweater, pour a cold Guinness beer into a frosted mug and set to work on a hearty Irish stew. Even though stews made with beef are common, the traditional Irish version is made with lamb or mutton. When cooked slowly, the lamb becomes so tender that it practically falls apart.
While the lamb is the star of the show, Irish stew simply isn't complete without onions, carrots and potatoes. And why not throw in some Guinness beer for good measure? As with most stews, this tastes even better the second day, when the flavors have a chance to meld together.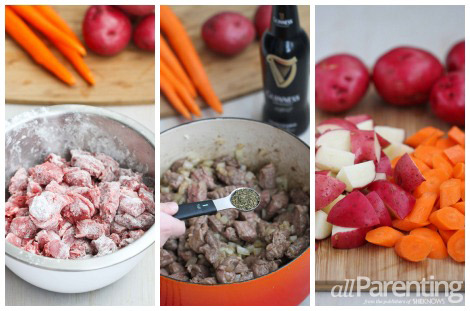 Irish stew with lamb, potatoes and carrots
Serves 6
Ingredients:
3 pounds leg of lamb, fat trimmed, cut into 3/4-inch pieces
3/4 teaspoon salt
1/2 teaspoon pepper
1/3 cup plus 2 tablespoons all-purpose flour, divided
4 tablespoons canola oil, divided
1 medium onion, chopped
1 teaspoon dried thyme
2-1/4 cups plus 3 tablespoons beef broth, divided
1-1/4 cups Guinness beer
4 large carrots, peeled and cut diagonally into 1/2-inch pieces
1-1/4 pound red-skinned potatoes, cut into 1/2-inch pieces
Salt and pepper, to taste
1/4 cup minced fresh Italian parsley
Directions:
Season the lamb with salt and pepper, then toss it with 1/3 cup of the all-purpose flour.
Heat 1 tablespoon oil in a large saucepan set over medium-high heat. Add 1/3 of the lamb pieces and cook until the lamb is browned on all sides. Transfer the lamb to a bowl. Repeat in two more batches with 2 tablespoons canola oil and the remaining lamb. There will be browned bits on the bottom of the saucepan. Don't get rid of them, as they will add flavor later.
Reduce the heat to medium. Add the remaining 1 tablespoon of canola oil to the saucepan, then add the onion and thyme. Cook until the onion is softened, stirring occasionally, about 5 minutes.
Add the lamb, 2-1/4 cups beef broth and the Guinness beer to the onions. Bring to a boil, then heat to medium-low, cover and simmer until the lamb is very tender, 1 to 1-1/4 hours. While the lamb is cooking, stir the stew occasionally, using a wooden spoon to scrape the browned bits from the bottom of the saucepan so that they are incorporated into the gravy.
Add the potatoes and carrots to the stew and cook until the potatoes and carrots are tender, 30 to 40 minutes.
In a small bowl, whisk together 2 tablespoons of all-purpose flour and 3 tablespoons of beef broth. Add this mixture to the stew and cook for an additional 10 minutes, or until the stew is thickened. Season to taste with salt and pepper. Stir in the parsley. Serve.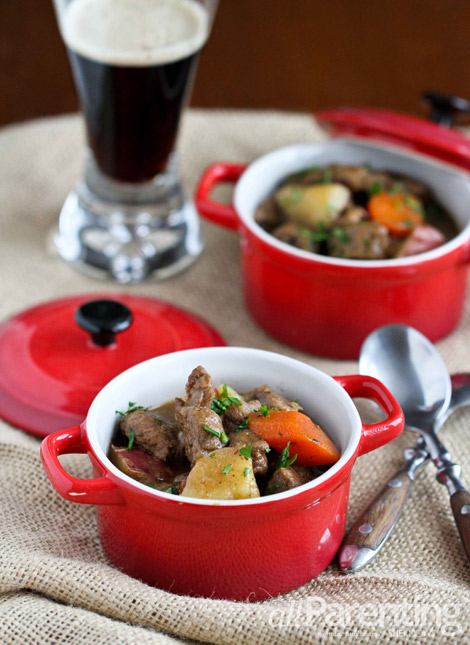 Recipes using beer or wine