Posted: Mar 19, 2013 5:00 AM
With cold weather turning to warm spring days, lighter meals are on everyone's minds. This Southwestern-inspired salad is filled with lean protein, such as shredded chicken and black beans, and tossed with a creamy yogurt cilantro dressing.
After months of dining on soups and stews, you may be starting to crave something a little lighter. Not only are dinner salads an easy way to get your family to eat their vegetables, but they can be flavorful and satisfying as well. This chopped salad is a plateful of lean protein, Southwestern flavors and dressing with a smoky kick.
For the best crunch, either buy romaine hearts or use the inner, light green leaves of a head of romaine lettuce, saving the dark leaves for another use. You can either poach some chicken breasts by cooking them in simmering water or cut the breast meat from a store-bought rotisserie chicken. Either way, simply use your fingers or two forks to shred the meat.
As important as the salad ingredients are, it is often the dressing that either makes or breaks a salad. This low-fat dressing is made with tangy Greek yogurt, cilantro and fresh lime juice, with a hint of smoky heat from a minced chipotle pepper. Now that's the way to do light.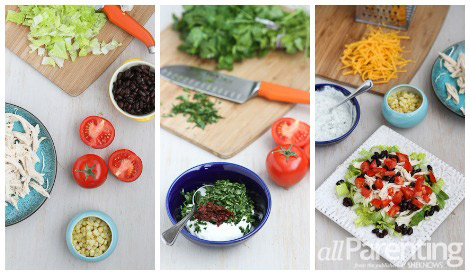 Southwestern chopped salad with shredded chicken and black beans
Ingredients:
Dressing:
1/2 cup non-fat plain Greek yogurt
3 tablespoons minced cilantro
1-1/2 tablespoons fresh lime juice
1/2 chipotle pepper, seeded and minced (sold in cans, in adobo sauce)
1/4 teaspoon salt
Salad:
6 cups chopped romaine hearts
2 cooked skinless chicken breasts, shredded
1 cup canned black beans, rinsed and drained
1 cup frozen corn kernels, defrosted
2 tomatoes, diced
1/4 cup grated Cheddar cheese
Directions:
Dressing:
In a medium bowl, stir together the Greek yogurt, cilantro, lime juice, chipotle pepper and salt.
Salad:
Divide the romaine lettuce between four dinner plates.
Top each plateful of salad with a quarter of the chicken, black beans, corn, tomatoes and cheese.
Top each salad with a quarter of the dressing. Serve.

Other easy dinner ideas
Mediterranean chicken naan pizza with pesto and fresh mozzarella
Roasted shrimp with tomatoes and feta cheese
Spicy bacon, leek and corn soup