Posted: Feb 15, 2013 6:00 AM
Guess what time of year it is? Girl Scout cookie time! And what better way to celebrate than with a Girl Scout inspired boozy milkshake! Blend up this Tipsy Tagalong boozy milkshake loaded with chocolate and peanut butter for a real treat!
While I know it's tempting to just eat those delicious Girl Scout cookies right out of the box, it's time to get creative and enjoy them a different way. In a boozy milkshake kind of way. You just can't go wrong with these three ingredients: chocolate, peanut butter and booze. Blend them all together into a frozen drink and you've got yourself a real winner!
Tipsy Tagalong
Serves 1
Ingredients:
1-1/2 cups chocolate ice cream
1/4 cup peanut butter
1/4 cup milk
4 Tagalong cookies
1/2 ounce crème de cocoa
1 ounce bourbon
Whipped cream
Chocolate sauce
Directions:
Combine the chocolate ice cream, peanut butter, milk, Tagalong cookies, crème de cocoa and bourbon into a blender. Blend until well combined.
Pour into a Mason jar or other festive glass.
Top with whipped cream and chocolate sauce.
Sip and enjoy!
Tipsy Tagalong treat variations:
Instead of drinking the milkshake right away, after blending all of the ingredients together, stick the milkshake in the freezer for up to one hour for a different frozen treat!
Forget the blender! Put ice cream in a bowl and drizzle peanut butter, chocolate sauce, crème de cocoa and bourbon over ice cream. Top with whipped cream and crumbled Tagalong cookies!
Prefer your Tagalongs in brownie form? We have you covered with this Tagalongs brownie recipe. >>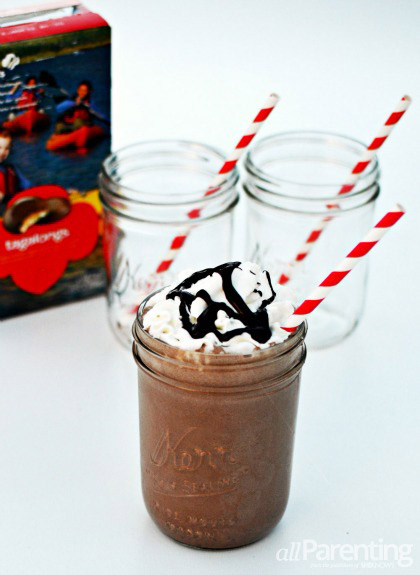 More cocktails to try