Posted: Mar 21, 2013 6:00 AM
Cooking for Passover can be tricky, and baking can be downright daunting. But this three-ingredient, no-bake cake will not disappoint. It's simple enough for children to help make, and delicious enough for everyone to help eat. This cake is dripping in chocolate and wine and calling your name!
Classic Passover cake has been gracing Seder tables for years, and there's a reason for that. This Passover dessert recipe is as decadent and rich as it is simple and quick. Combining the flavors of sweet red wine with dark chocolate and crunchy matzoh, this simple, make-ahead dessert is sure to be the hit of your Passover table!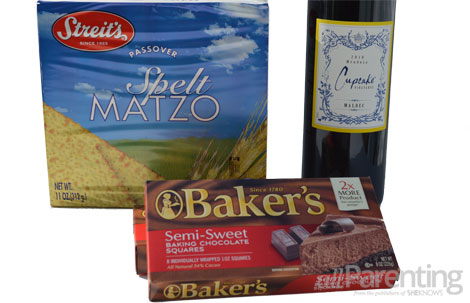 Classic Passover cake
Serving size 16
Ingredients:
1 box of unsalted matzoh
2 packages of semi-sweet chocolate baking squares
1 cup of your favorite red wine (classic recipes use Manischewitz, a fancier version uses a tawny port and a great rule of thumb is to cook with the wine that you most enjoy drinking)
Directions:
Pour your wine into a shallow baking dish.
Take one piece of matzoh and dip both sides of it into the wine. You want the wine to soak in without the matzoh getting too soggy. How long this takes depends on your matzoh, so experiment a little bit with this. We've found that a good soaking time is about 1 minute.
Place the wine-dipped matzoh onto your serving plate.
Melt your baking chocolate in a microwave-safe dish. Melt the chocolate 30 seconds at a time until it's smooth, stirring between each 30 second melting time.
Using a spreader or a spatula, smooth a generous layer of melted chocolate onto the matzoh.
Repeat this process of layering wine-dipped matzoh and chocolate until your cake is as tall as you want it to be.
Spread the remaining chocolate around the sides and edges of your matzoh cake.
Refrigerate your matzoh cake for at least 1 hour, allowing the chocolate to set.
Matzoh cake keeps incredibly well, so feel free to make this recipe ahead of time.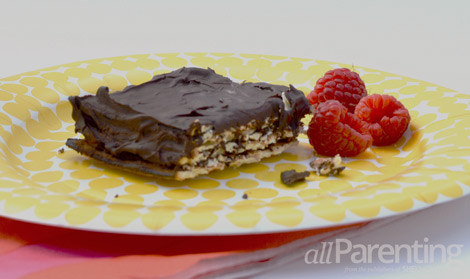 Serving suggestions
Serve your delicious matzoh cake cold and cut into squares with a sharp knife. It's divine all on its own, but other serving ideas include the three below:
Berries and cream — Top your matzoh cake with a simple whipped cream (heavy whipping cream that has been mixed with an electric mixer until soft peaks form) and fresh berries.
Salted caramel — Using salted matzoh in the recipe, drizzle the top of your matzoh cake with melted caramel, then sprinkle it with coarse sea salt.
Party time — Toppings make everything more fun. Consider letting your kids top their matzoh cake with ice cream and colorful sprinkles.
More holiday recipes
Happy hour! Grand Marnier Cherry cocktails
Classic roast chicken
4 Simple vinaigrette recipes