Posted: Mar 26, 2013 5:00 AM
A simple ham gets dressed up for Easter with an orange and brown sugar glaze. Cook it until the glaze is caramelized, bubbling and dripping down the side of savory ham.
Once the fun of the Easter egg hunt dies down and the little ones are lying on the couch in a Peeps-induced coma, it's time to turn your mind to Easter dinner. While ham is a traditional dish to serve at this holiday meal, it is often served dry, withered and far from appetizing. Since hams are typically bought already smoked (yes, they're already cooked!), a gentle heating at a low temperature is all that's required for a juicy roast that will impress your guests.
Once the ham is heated, quickly stir together a sweet glaze of brown sugar, orange juice, dry hot mustard powder and a pinch of nutmeg. Spoon the glaze over the ham, then bake it at a higher heat for a few minutes until the sugary glaze is caramelized and bubbling. The aroma is sure to lure even the most dedicated chocolate lovers away from their Easter baskets for a few minutes.
Dry mustard powder can be found in the spice section of most grocery stores.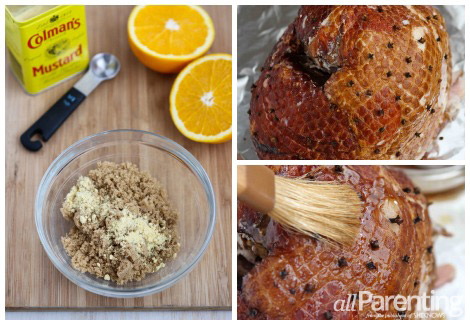 Easter ham with orange and brown sugar glaze
Serves 12
Ingredients:
8 pound bone-in ham, spiral sliced optional
1 tablespoon whole cloves
1/4 cup brown sugar
2 tablespoons orange juice
1/2 teaspoon mustard powder, such as Colman's
1/4 teaspoon ground nutmeg
Directions:
Preheat the oven to 225 degrees F. Place the oven rack in the lower third of the oven.
Place the ham, bone-side down, in a shallow roasting pan or on a rimmed baking sheet lined with foil.
If the ham is not spiral sliced, use a sharp knife to score the ham in a 1-inch checkerboard pattern, cutting just 1/4-inch into the ham. If the ham is spiral sliced, there is no need to do this.
Insert the whole cloves slightly into the scored or sliced ham, all over the surface of the meat.
Cover the ham tightly with foil and bake until it is heated through, about 1 hour 45 minutes. Take care not to overheat the ham, or else it will become dry.
Remove the ham from the oven and turn the heat to 425 degrees F.
In a small bowl, stir together the brown sugar, orange juice, mustard powder and ground nutmeg until well combined. Uncover the ham and spoon this glaze over the ham, then use a pastry brush to distribute the glaze evenly over the surface of the ham.
Place the ham in the oven, uncovered, and cook until the glaze is starting to bubble and just beginning to brown, 5 to 8 minutes. Take the ham out of the oven and remove the cloves. Slice and serve.
Other recipes for Easter dinner
Three cheese potato gratin
Gin Daisy cocktail
Spring salad: Fennel, orange and olive salad