Posted: Mar 05, 2013 5:00 AM
Imagine the aroma of beans simmering in tomatoes, garlic and herbs. Then imagine that ragout ladled over a thick piece of crusty bread, ready to be enjoyed alongside a glass of red wine.
Have you ever had one of those days that leaves you exhausted and hungry? You know those days when you crave comfort food, but the thought of cooking makes your eyelids droop even lower, and going out to eat just isn't an option? That's when you need something simple and hearty... a meal that practically cooks itself. This easy vegetarian meal should do the trick and, better yet, you probably have everything you need tucked away in your pantry.
Once the onions, garlic, thyme, tomatoes and beans start to meld together and the aroma reaches your nose, you'll be just minutes away from sitting down to dinner. Toast some crusty bread, ladle the bean ragout over top, garnish with Parmesan cheese and minced parsley, then dig in with a knife and fork. Well, right after you pour that glass of red wine, of course.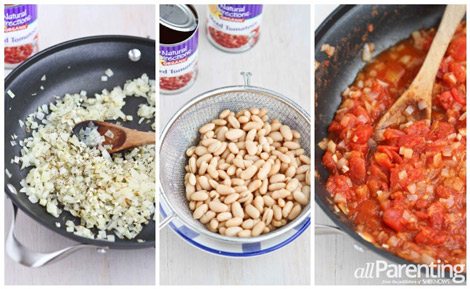 White bean ragout on toast
Serves 4
Ingredients:
2 teaspoons olive oil
1-1/2 medium onions, chopped
3 cloves garlic, minced
1 teaspoon dried thyme
1/4 teaspoon salt
1/4 teaspoon ground pepper
1 (28 ounce) can diced tomatoes, with their juices
1 (14 ounce) canned cannellini beans (or white kidney beans)
4 slices crusty whole wheat or white bread
1/4 cup finely grated Parmesan cheese
1/4 cup minced Italian parsley
Directions:
Heat the olive in a large skillet set over medium heat. Add the onion and cook, stirring occasionally, until the onion is tender, 6 to 7 minutes. Add the garlic, thyme, salt and pepper, and cook for 1 minute.
Stir in the tomatoes with juices and simmer for 10 minutes.
Add the beans and simmer for an additional 10 minutes.
Toast the bread, and divide the pieces of toast between 4 plates.
Top each piece of toast with one-quarter of the bean ragout, and garnish each serving with 1 tablespoon each of Parmesan cheese and parsley. Serve.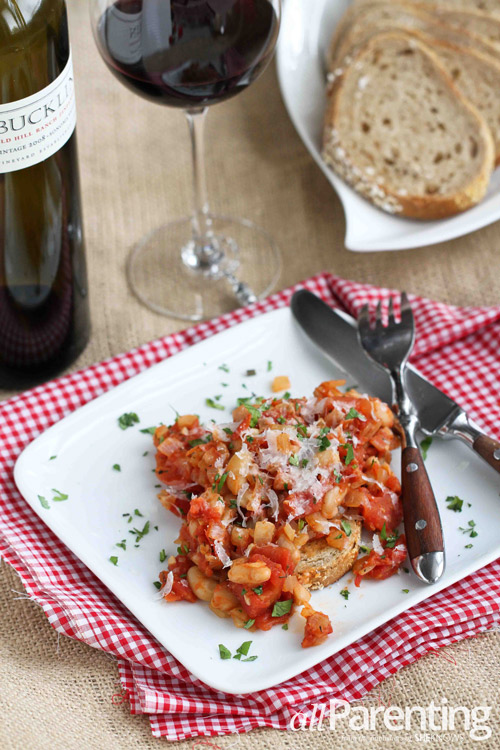 Other easy dinner ideas
Quinoa salad with chicken, black beans and chipotle dressing
Mediterranean chicken naan pizza with pesto and fresh mozzarella
5-Ingredient vegan Tuscan bean soup