Posted: Mar 04, 2013 5:00 AM
Creamy, delicious and full of flavor, everyone at your table will dig into their giant bowl of bowtie pasta. Loaded with family friendly ingredients, even the pickiest eaters at your table will love this pasta dish!
What's not to love about a creamy tomato pasta dish to enjoy after a long day? Easy to make and delicious, your family will be diving in for seconds of this hearty pasta dish. The combination of tomato sauce and half-and-half add a creamy coating to the pasta and vegetables while the prosciutto adds a slight smokiness. Top with salty Parmesan cheese and you've got yourself a pasta winner!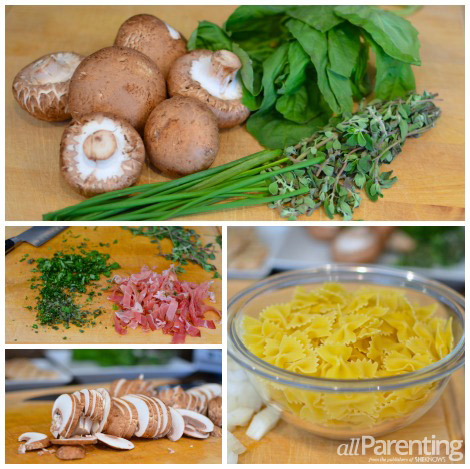 Bowtie pasta with chicken, mushroom and artichokes
Serves 4
Ingredients:
2 grilled boneless, skinless chicken breasts, sliced into thin strips
12 ounces farfalle (bowtie) pasta
3 tablespoons extra-virgin olive oil
1 medium onion, finely chopped
4 cloves garlic, minced
8 ounces cremini mushrooms, sliced
1 (15 ounce) can tomato sauce
1 (14 ounce) can artichoke hearts, chopped
6 slices prosciutto, thinly sliced
2 tablespoons fresh basil, finely chopped
2 tablespoons fresh oregano, finely chopped
1/2 cup half and half
Freshly grated Parmesan cheese
Kosher salt and freshly ground pepper
Directions:
In a large pan, heat the olive oil over medium heat. Add the onion and garlic, sautéing until the onion is translucent and soft.
Add the mushrooms and sauté until lightly browned.
Stir in the tomato sauce, artichokes, prosciutto, basil and oregano. Reduce the heat to medium-low, cover and simmer for 20 minutes.
Stir in the half and half, and season with salt pepper.
Simmer uncovered until slightly thickened.
Meanwhile, cook the pasta according to the package directions. Drain and set aside.
Divide the pasta evenly among the pasta bowls. Ladle the mushroom and artichoke sauce over the pasta and then top with strips of grilled chicken.
Sprinkle with Parmesan cheese, sprig of fresh basil and serve immediately.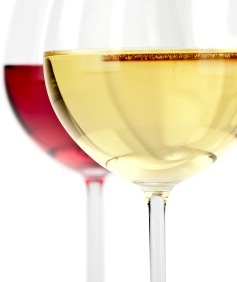 Rachel's suggested wine pairing

This pasta dish has a lot of different flavors, but the tomato sauce and smoky prosciutto are definitely the dominant flavors. Try a Barbera from the Piedmont region in Italy or a Sangiovese from Tuscany. Both have superb fruit structure and acid to pair well with hearty pasta dishes. Try the 2011 Marchesi di Barolo Maraia Barbera di Monferrato. Super affordable and #66 on Wine Spectator Top 100 of 2012.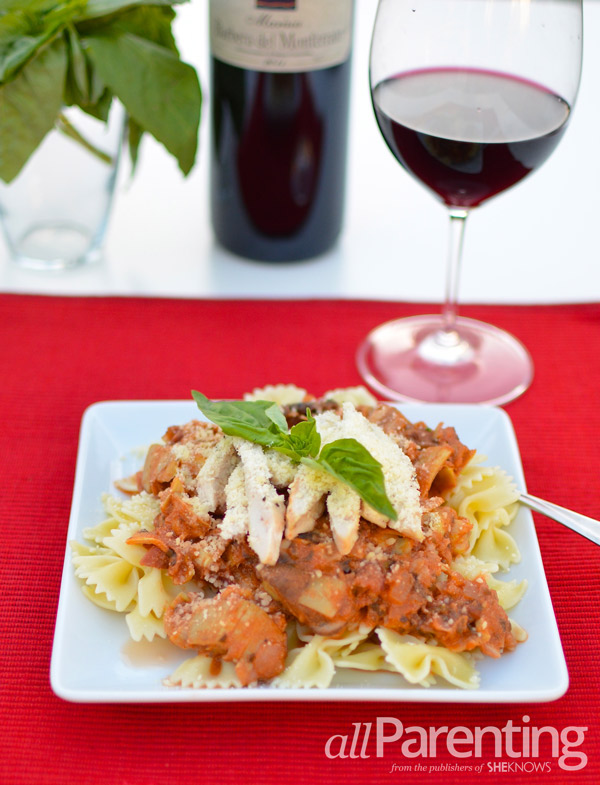 More pasta recipes to try
Speedy weeknight broccoli pesto pasta
Macaroni and cheeseburger
Pork, mushrooms and fettuccine in garlic wine sauce