Posted: Mar 14, 2013 10:00 AM
Holidays bring out the former teacher in me. I hear St. Patrick's Day, and I think time to teach rainbows! Fruit kabobs make a colorful, healthy addition to your St. Patrick's Day rainbow fun. They're delicious, easy to make and your littlest helpers — and eaters — will adore them!
St. Patrick's Day and rainbows were meant to go together. This clever rainbow fruit kabobs recipe is delicious to eat and simple to make. It's also the perfect combination of being a St. Patrick's Day activity to do and a snack to eat, which is always a win! Served in adorable Mason jars, this healthy sweet treat makes a perfect snack you can feel good about feeding your family and a wonderful addition to any party fare. Because holidays are such a natural way to create family memories, a special twist on this new favorite is made with edible glitter-infused ice cubes — creating a pot of gold (literally) at the end of the rainbow!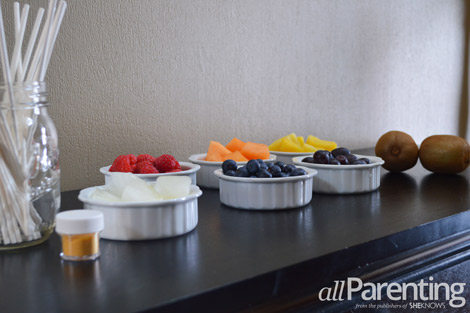 What you'll need
Red — Strawberries, raspberries, apples, cherries and grapes
Orange — Oranges, cantaloupes, mangos and papayas
Yellow — Pineapple, bananas, star fruit, apples, grapefruit, pears and raspberries
Green — Kiwi, apples, grapes, pears and honeydew melons
Blue — Blueberries, raspberries and huckleberries
Purple — Blackberries, grapes and plums
What you'll do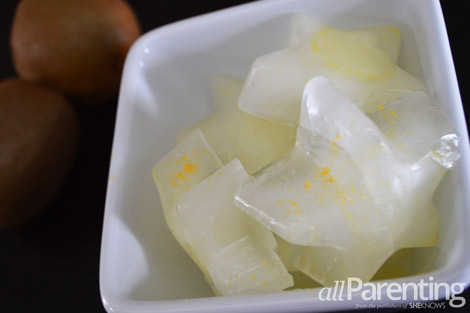 In advance, sprinkle edible glitter or shimmer dust into a filled ice cube tray, then place the tray in the freezer. It takes approximately six hours for ice to form, so consider making the glitter ice cubes (at least) the night before you plan to make the fruit kabobs.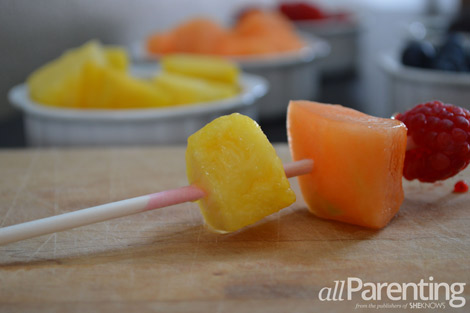 Carefully thread your washed, dry fruit onto your skewers or lollipop sticks in rainbow order. This part is fun for kids to do and a great chance to discuss ordering, sequencing and, of course, colors!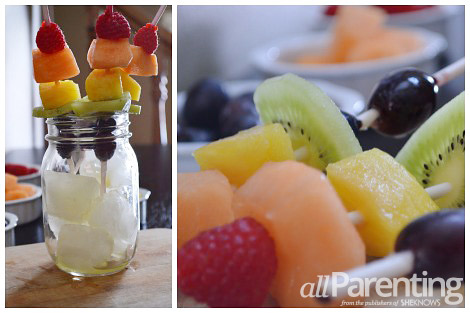 Pile the frozen, glittery ice cubes into your Mason jars. This is your pot of gold, so consider placing an extra sprinkling of gold on top. Using a small paint brush dipped in shimmer dust on the frozen cubes will give them even more of a magical look.
One more thought
The pot of gold takes this snack from healthy to magical. It also keeps the kabobs fresh and cold at gatherings. If you're serving rainbow fruit kabobs at a party, consider making an extra batch of glittery ice cubes to have on hand for refilling the jars during the party. These kabobs also make for a sweet garnish in juice or cocktails and can be used as a drink stirrer. Also, consider a vegetable version of rainbow kabobs with tomatoes, sweet potatoes, squash, bell peppers, blue corn and eggplant!
More clever party food
Mason jar layered salads
Mason jar layered bean dip
A hot chocolate bar