Posted: Mar 21, 2013 7:00 AM
Longing for some warmer weather? A deliciously stuffed endive spear loaded with seafood and tropical flavors will take you far away to a warm, tropical island. Perfect for lunch or a party appetizer, everyone will love these crisp and crunchy bites!
Easy to make and full of flavor, pineapple shrimp salad endive spears are the way to go for your next party. The pineapple adds some sweetness, the cilantro and lime juice a kick and the crème fraiche adds creaminess. Endive is a bitter leafed vegetable that has narrow, green and curly outer leaves. It is sometimes called chicory in the U.S. and is called chicorée frisée in French. Endive can be eaten like any other green, sautéed, chopped into soups and stews, or as part of a green salad.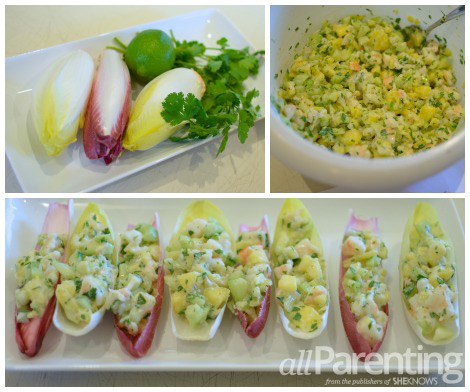 Pineapple shrimp salad endive spears
Makes 15-20
Ingredients:
1/2 pound cooked, peeled shrimp with tails removed
1 English cucumber, peeled, seeded and diced
1 cup fresh pineapple, diced
1/4 cup chopped fresh cilantro
2 tablespoons freshly squeezed lime juice
2 tablespoons crème fraiche
Kosher salt
2 small Belgian endive, separated into individual spears
Directions:
Chop the shrimp into small pieces and add to a large bowl.
Add the cucumber, pineapple, cilantro, lime juice and crème fraiche to the bowl.
Mix altogether and add the Kosher salt to taste.
Spoon about 2 tablespoons of the pineapple shrimp mixture onto each endive spear and serve.
Be a clever chef!
Make a mini sandwich with the pineapple shrimp mixture.
Spoon the pineapple shrimp mixture over a bed of salad greens.
Use as a seafood salad dip.
Spoon on top of crostinis.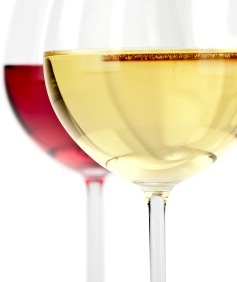 Rachel's suggested wine pairing

It's important to account for all of the ingredients in this dish. The pineapple shrimp salad mixture has a sweet and tanginess to it while the endive spear adds greenness and a little bitterness. Try a Grüner Veltliner wine from Austria or a Torrontes wine from Argentina. The Grüner Veltliner has enough greenness and white pepper notes to stand up to the bitterness of the endive spears while the Torrontes pairs nicely with the tropical notes of the pineapple shrimp salad mixture. And of course, there are always bubbles!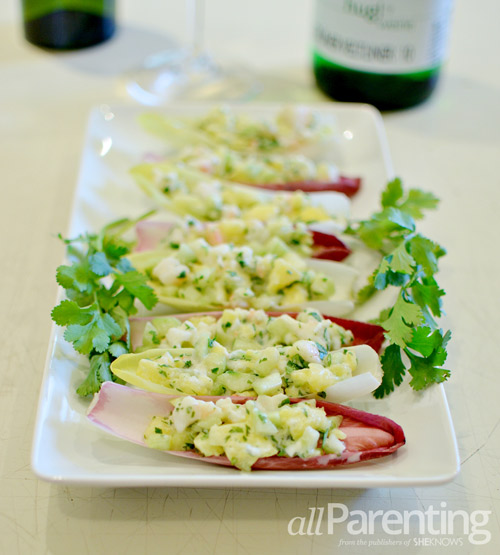 More appetizers to try
Mason jar layered bean dip
4 Easy crostini party appetizers
Heirloom bruschetta