Posted: Mar 24, 2013 8:00 PM
Perfect for a ladies' lunch or light dinner, you will love creating these scrumptious mini sandwiches. Easy to make and full of flavor, everyone will love biting into these mini colorful sandwiches.
To say that these mini sandwiches have loads of flavor is a drastic understatement. The grilled steak adds a smoky flavor, the Brie and truffle butter add creaminess and earthiness while the arugula adds a peppery kick. Easy to make and with only five ingredients, mini Brie, steak and arugula sandwiches are perfect for lunches or a quick spring dinner!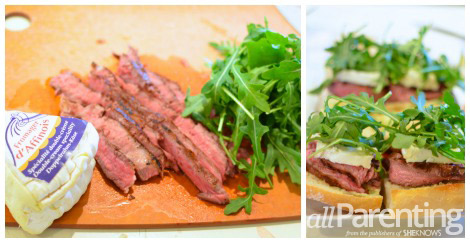 Mini Brie, steak and arugula sandwiches
Serves 4
Ingredients:
1/2 pound New York strip steak
6 ounces sliced Fromager d' Affinois cheese or your favorite double or triple cream Brie cheese
4 ounces baby arugula
2 ounces black truffle butter
2 Francese deli rolls, cut in half
Kosher salt and freshly ground pepper
Directions:
Preheat the grill and sprinkle the steak with salt and pepper.
Grill the steak for 4 to 5 minutes per side for medium rare. Remove from the grill and set aside.
Slice the deli rolls open-faced and toast.
Spread a generous amount of truffle butter on each side of each roll.
Thinly slice the steak into thin strips and evenly divide among the 4 rolls.
Place the slices of Brie on top of the steak, followed by a generous handful of the baby arugula.
Close the sandwiches together, serve and enjoy!
Swap out the truffle butter with homemade sage butter. Melt 6 ounces of unsalted butter in a small pan and add 8 fresh sage leaves. Sprinkle with Kosher salt. Pour into a small glass bowl and place in the refrigerator for 30 minutes.
Go vegetarian and skip the steak!
Swap out the steak for chicken.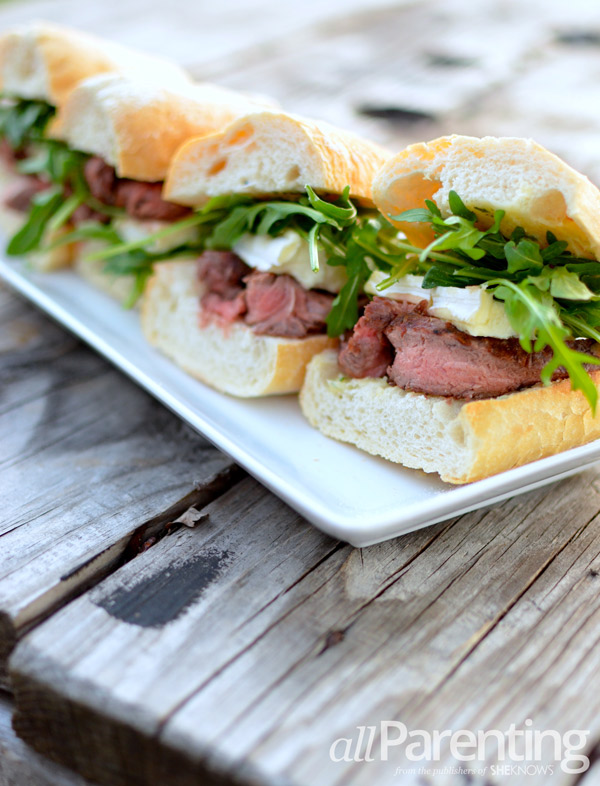 More 5-ingredient recipes to try
5-Ingredient dinner: Spinach salad with grilled salmon
5-Ingredient vegan Tuscan bean soup
5-Ingredient dinner: Grilled chicken and arugula salad