Posted: May 05, 2013 8:00 AM
Usher in spring with this light, fresh pasta. Asparagus and spring peas are sautéed just until tender and tossed with a light sauce made of olive oil, white wine and Parmesan cheese.
When the birds start chirping and the crocuses start pushing up through the soil, the craving for fresh spring vegetables naturally follows close behind. Everywhere you turn, grocery stores and farmers markets are chock-full of bright green stalks of asparagus and sweet pea pods. The word primavera means spring, so this classic pasta dish is a celebration of renewal and a rather enthusiastic farewell to winter.
If you are unable to find fresh spring peas, substitute snow pea pods or sugar snap peas. For both options, use the entire pod. This recipe works equally well with whole wheat or regular linguini.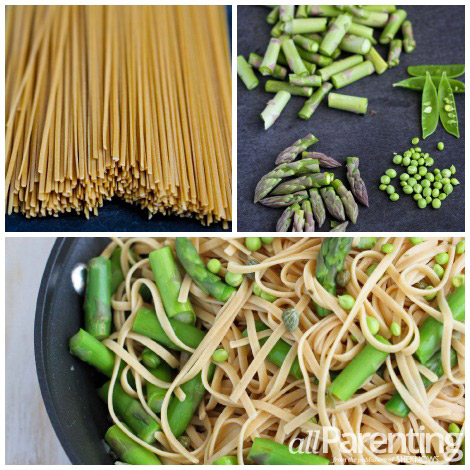 Pasta primavera with asparagus and spring peas
Serves 4
Ingredients:
1 pound linguini pasta
3/4 pound asparagus, tough ends trimmed, and cut into 1-inch pieces
3 tablespoons olive oil
1 large shallot, minced
3/4 cup dry white wine
1/2 cup shelled fresh peas
2 tablespoon capers
1/2 teaspoon salt, or to taste
1/2 teaspoon ground pepper, or to taste
3 tablespoons minced fresh parsley
6 large basil leaves, thinly sliced
1/2 cup freshly grated Parmesan cheese, plus more for serving
Directions:
Bring a large pot of salted water to a boil. Add the pasta and cook until al dente. During the last 1-2 minutes of cooking (depending on the thickness of the asparagus), add the asparagus. Drain the pasta and asparagus into a colander.
In a large skillet heat the olive oil over medium heat. Add the shallots and cook, stirring, until tender, about 3 minutes. Pour in the white wine and cook at a rapid simmer for 3 to 4 minutes.
Add the fresh peas and capers and cook for 1 to 2 minutes, or until the peas are just tender.
Add the pasta, asparagus, salt and pepper and toss to combine.
Add the parsley, Parmesan cheese and basil and toss again. Serve immediately and top with additional grated Parmesan cheese.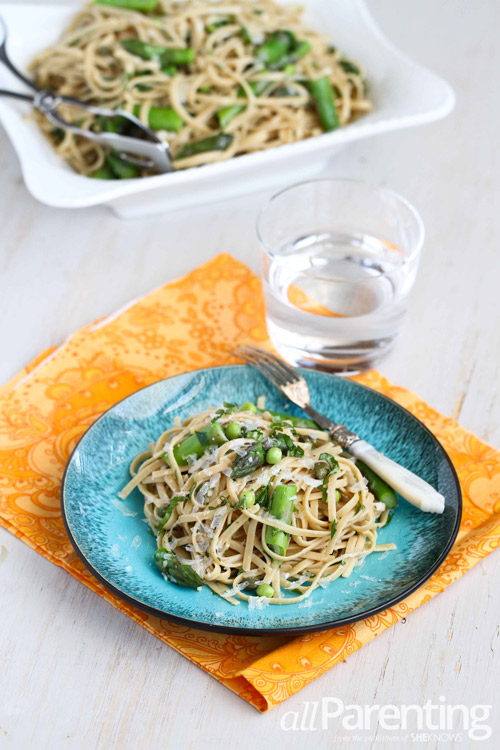 Other fresh recipes for spring
Spring brunch ideas
Spring salad: Fennel, orange and olive salad
Savannah smiles lemontini