Posted: Mar 13, 2013 11:30 AM
Not sure how to make marshmallow pops? We've got you covered with this perfect St. Patrick's Day treat! This simple marshmallow pops recipe is easy enough to make with your favorite helper and adorable enough to give to their luckiest friends or keep for your St. Patrick's Day table!
Marshmallow pops are the perfect addition to any holiday celebration and St. Patrick's Day is no exception. This simple marshmallow pops recipe is filled with clever tips to make these lucky treats equally sweet to eat and fun to make. So grab your favorite helper and follow this easy marshmallow pops how-to and make a sweet St. Patrick's Day treat!
What you'll need
Marshmallows (we love the jumbo-sized ones)
A small, shallow dish of water
A variety of sprinkles
White chocolate baking squares (optional)
Green food coloring (optional)
A pretty container — like a Mason jar — to place your pops as you finish making them

What you'll do
Gently pierce each marshmallow with a lollipop stick or a paper straw.
Place the marshmallows in the freezer for approximately 20 minutes. This will make it so much easier to decorate the marshmallow pops.
Pour the sprinkles into shallow dishes.
Working quickly, dip each marshmallow one at a time into the water dish, then immediately dip them into the sprinkles.
Stand the completed marshmallow pops upright so the sprinkles have a chance to adhere to the marshmallow pops.
One more thought
Another pretty, clever way to decorate marshmallow pops is with white baking chocolate. Melt the baking squares in the microwave for 30 seconds at a time, stirring in between each 30 seconds. Once your chocolate is melted, stir in a little green food coloring. One drop of food coloring will make a light green and two drops will make a dark green. Dip the marshmallows into the chocolate instead of the water and if you (or your helper) would like, sprinkle decorations on top. These lovely treats can be eaten immediately, saved for your St. Patrick's Day table or shared with your luckiest friends!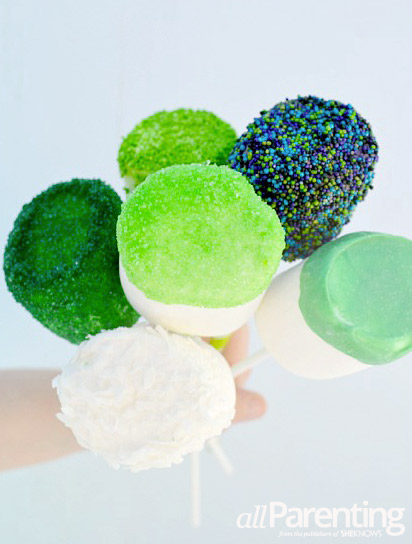 More perfect pops
Frozen banana pops recipe
Homemade frozen treats
Homemade pink lemonade ice pops