Posted: Apr 02, 2013 5:00 AM
Serve this grown-up grilled cheese sandwich for lunch or dinner, paired with a side salad. Aged cheddar cheese and sun-dried tomato pesto elevates this from a standard grilled sandwich to something memorable.
As parents, we spend a lot of time dreaming up meals that will please the whole family. However, sometimes we want to serve something that is all about the adults. While I enjoy a classic grilled cheese sandwich with ketchup on the side as much as the next kid, I simply can't resist a dressed-up grilled cheese sandwich. Toss together a simple green salad, invite a few friends over and enjoy a lunch with adult flavors and conversation.
While it may seem daunting to make your own pesto, this easy version comes together in minutes. Simply puree the pesto ingredients in the food processor and drizzle in some olive oil. The leftover pesto can be stored in the refrigerator for up to one week. Use it on pasta or as a topping for broiled chicken or fish.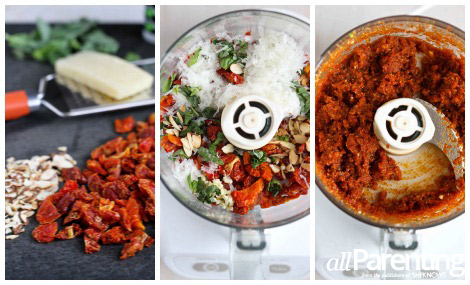 Grilled cheese sandwiches with sun-dried tomato pesto
Serves 4
Ingredients:
The pesto:
3-1/2 ounces sun-dried tomato halves (not in oil), chopped (about 1 cup)
1/3 cup grated Parmesan cheese
2 tablespoons sliced almonds, toasted
2 garlic cloves, minced
1/4 teaspoon salt
1/2 cup plus 2 tablespoons extra-virgin olive oil
The sandwiches:
8 slices whole wheat or white crusty bread
2 tablespoons olive oil
4 ounces aged white cheddar cheese (or other high-quality cheddar cheese), sliced
Instructions:
The pesto:
In the bowl of a food processor, combine the sun-dried tomatoes, Parmesan cheese, toasted almonds, garlic and salt. Pulse to combine.
With the food processor running, slowly pour in the olive oil until the mixture is thoroughly combined.
The sandwiches:
Spread 1 tablespoon of pesto on each slice of bread. Store the remaining pesto in the fridge for up to 1 week.
Lay 1 ounce of cheddar cheese on 4 of the bread slices. Top with the remaining slices of bread.
Heat a large skillet (preferably cast-iron) over medium heat.
Brush the top side of each sandwich with olive oil and place the sandwiches in the skillet, top side down.
Brush the top of each sandwich with the remaining olive oil.
Cook the sandwiches until the cheese is melted and the bread is golden brown, turning halfway through cooking. Serve.

Other adult-friendly lunches
Caramelized onion, pancetta and chard tart
Mini Brie, steak and arugula sandwiches
Quinoa salad with chicken, black beans and chipotle dressing