Posted: Apr 17, 2013 5:00 AM
This is the recipe that will make your family fall in love with salmon. The sweet and savory flavors of the teriyaki sauce appeal to all ages. Simply brush the easy homemade sauce over the salmon and pop it under the broiler.
If your family turn up their noses whenever you serve fish, this broiled teriyaki salmon recipe might be the one that makes them change their minds. Sweet and salty teriyaki sauce appeals to taste buds, both young and old. Of course, you could use a store-bought teriyaki sauce, but this homemade recipe takes mere minutes to whip up and it doesn't include all of the fillers and outrageous sodium counts found in bottled versions.
To round out the meal, serve the tender salmon over a bed of rice, soba noodles or rice noodles. Stir-fry some vegetables, such as carrots, red bell peppers and broccoli for a pop of color and vitamins.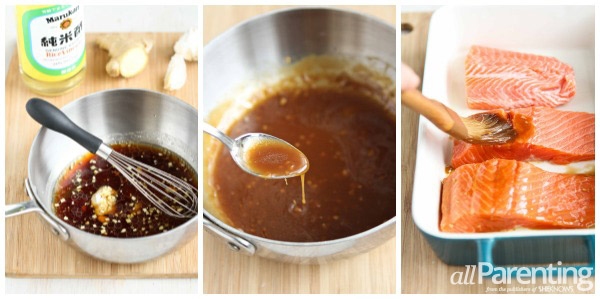 Broiled teriyaki salmon recipe
Ingredients:
4 (4 ounce) salmon fillets
3 tablespoons rice vinegar
3 tablespoons water
2 tablespoons soy sauce
2 tablespoons canola oil
1-1/2 teaspoons (packed) brown sugar
1-1/2 teaspoons all-purpose flour
1-1/2 teaspoons minced fresh ginger
1 garlic clove, minced
1-1/2 teaspoons toasted sesame seeds
Directions:
Preheat the broiler. Coat a glass or ceramic baking dish with cooking spray. Place the salmon fillets in the baking dish.
In a small saucepan, whisk together the rice vinegar, water, soy sauce, canola oil, brown sugar, all-purpose flour, ginger and garlic.
Set the saucepan over medium heat and simmer until the sauce thickens, whisking occasionally, 8 to 10 minutes. Set aside 3 tablespoons of the teriyaki sauce, for serving.
Brush the remaining teriyaki sauce over the salmon fillets.
Broil the salmon until it is just cooked through, 9 to 11 minutes.
Transfer the salmon to plates, brush the salmon with the reserved teriyaki sauce and sprinkle with the toasted sesame seeds. Serve.

Other salmon recipes
Salmon kebabs with quinoa and grapefruit salad
Spinach salad with grilled salmon
Honey soy grilled salmon with edamame