Posted: Apr 15, 2013 5:00 AM
If you think polenta is only for restaurant meals, think again. This easy side dish can easily be whipped up at home. Topped with sautéed wild mushrooms and herbs, it becomes a to-die-for vegetarian meal.
There are some dishes that seem far too fancy to be tackled by home cooks. When polenta first appeared on restaurant menus years ago, it appeared to be a side dish that was best left in the hands of the finest Italian chefs. It certainly was not something to be made at home. Or so we thought.
It turns out that polenta is nothing more than ground cornmeal that is cooked with a boiling liquid, such as vegetable broth, until it reaches a porridge-like consistency. On its own, it can seem rather mundane and basic. When you stir in Parmesan or Gorgonzola cheeses, and top it with a seafood stew, a braised lamb shank or a simply prepared wild mushroom ragout, it turns into something spectacular.
This polenta dish is meant to be served as a side dish. However, it can easily be elevated to entree status. Simply double the ingredients and add some cannellini beans to the mushroom ragout for a hit of protein.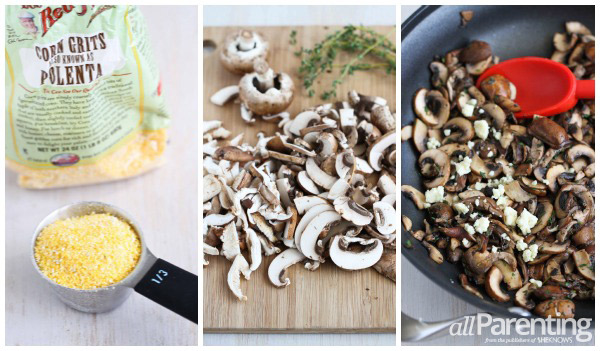 Polenta with wild mushroom ragout
Serves 4 (as a side dish)
Ingredients:
The polenta:
2 teaspoons olive oil
1 shallot, minced
4 cups vegetable broth
2/3 cup polenta
1/3 cup grated Parmesan cheese
The mushrooms:
2 teaspoons olive oil
4 ounces shiitake mushrooms, stems removed and discarded, sliced
12 ounces crimini (Baby Bella) mushrooms, sliced
1 tablespoon minced fresh thyme leaves
3 tablespoons crumbled Gorgonzola cheese
1/4 teaspoon ground pepper
1/8 teaspoon salt
Directions:
The polenta:
Heat the olive oil in a medium saucepan set over medium heat. Add the shallots and sauté until tender, 3 to 4 minutes.
Pour the vegetable broth into the saucepan, raise the heat to medium-high, and bring to a boil. Lower the heat to medium and slowly whisk in the polenta. Cook, stirring frequently, until the polenta is soft and thick, about 15 to 20 minutes.
Just before serving, stir in the Parmesan cheese.
The mushrooms:
While the polenta is cooking, heat the olive oil in a large skillet set over medium heat.
Add all of the mushrooms, and cook until the mushrooms are tender and just starting to brown, 5 to 7 minutes. Stir in fresh thyme. Remove from the heat.
Stir in the Gorgonzola cheese, and season with the pepper and salt.
Divide the polenta between 4 plates, and top each serving with 1/4 of the mushroom mixture. Serve immediately.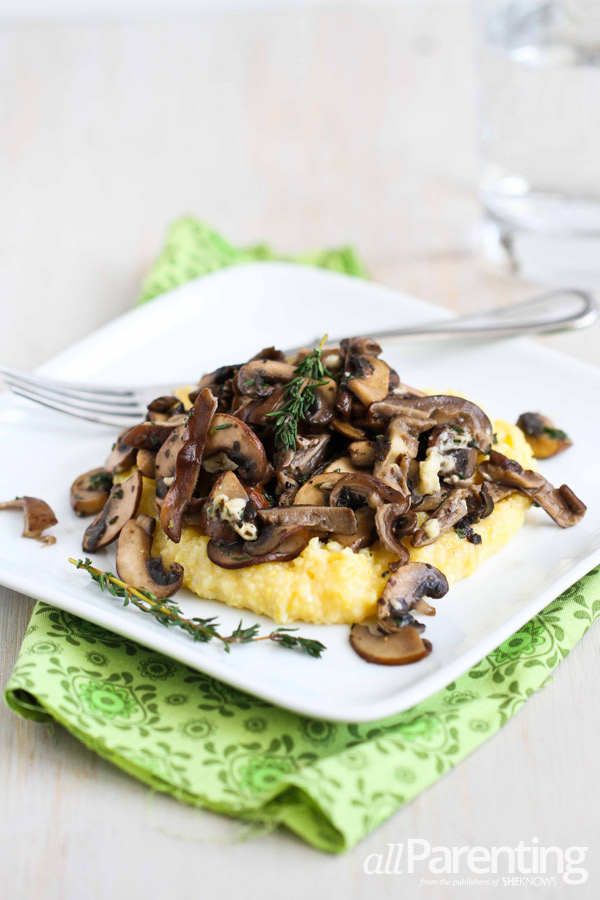 Other vegetarian side dishes or meals
White bean ragout on toast
Chili-roasted sweet potato nuggets
Creamy potato leek soup