Posted: Apr 01, 2013 5:00 AM
Tortilla soup is delicious, comforting, easy to make and requires few ingredients. Treat your friends to a layered Mason jar tortilla soup at your hosted lunch or warm up your family at dinner time!
Tortilla soup is one of those soups that's loaded with flavor from very few ingredients. All you have to do is throw five ingredients into a pot, heat through and top with crunchy tortilla strips, avocado and fresh cilantro. Serve in a Mason jar for a unique serving bowl or for an easy lunch to grab and go!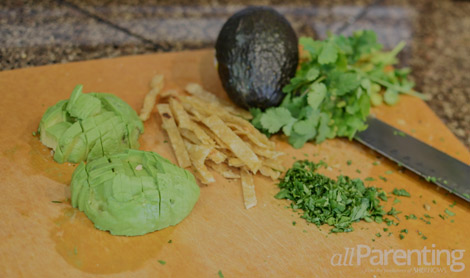 Mason jar tortilla soup
Serves 4
Ingredients:
3 cups chicken broth
1 (16 ounce) jar red salsa
2 cups shredded grilled chicken
1 cup corn kernels
1 cup black beans, drained and rinsed
1/2 teaspoon vegetable oil
2-3 corn tortillas
1 ripe avocado, diced small
3 tablespoons finely chopped fresh cilantro
Directions:
In a large pot, heat the chicken broth and salsa over medium heat. Once bubbling, add shredded chicken, corn kernels and black beans. Cook for 5-8 minutes.
While the soup is heating, add the vegetable oil to a nonstick pan. Heat over medium heat and add a tortilla. Cook until crispy and brown on each side. Remove from the pan, cut in half and then into strips. Repeat with remaining tortillas.
Ladle the soup into wide mouth pint size Mason jars. Top with tortilla strips, avocado and cilantro.
Serve and enjoy!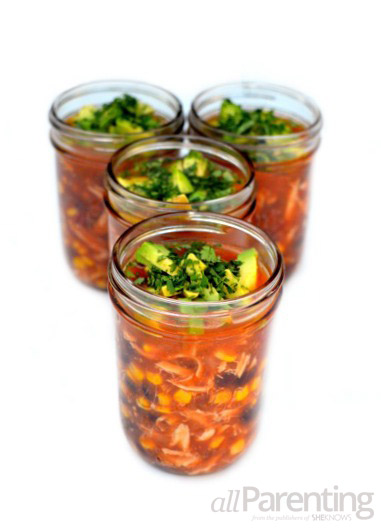 More soup recipes to try
5-Ingredient vegan Tuscan bean soup
Tomato basil bisque and truffle grilled cheese
Spicy bacon, leek and corn soup