Posted: Apr 24, 2013 5:00 AM
Enjoy a Louie-style seafood salad for lunch or dinner this spring. Toss together mixed greens, asparagus, avocado, heirloom tomatoes and a hard-boiled egg, then top with fresh crab and shrimp for a meal that will take you seaside!
Head on over to the seafood counter and grab some fresh and delicious Dungeness crab meat and baby shrimp this week for a tasty, quick meal. Once you get home with your ingredients, there is nothing you must do to these seafood delights before stealing a pinch or two to snack on while you dice your veggies for the salad. Don't worry, we won't tell! Drizzle your favorite salad dressing on top of your salad, or choose from one of these four simple vinaigrette recipes.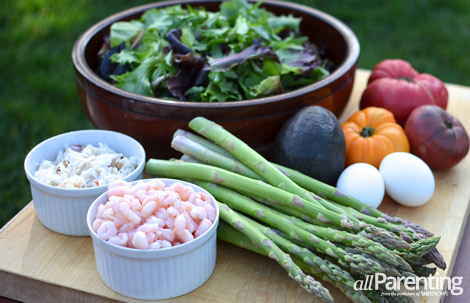 Crab and shrimp salad, Louie style
Serves 4
Ingredients:
10 ounces mixed salad greens
1/2 pound Dungeness crab meat
1/4 pound baby shrimp
1 avocado, sliced
1/2 pound asparagus spears
3 hard-boiled eggs, sliced
3 heirloom tomatoes, chopped
Directions:
Bring a pot of water to a boil. Add asparagus spears to the boiling water and cook until the spears turn bright green, about 2-5 minutes.
Remove the asparagus spears from the boiling water, using tongs, and place into a bowl of ice water to cool. Slice spears into bite-size pieces.
Add mixed greens on a large serving tray or in a large wooden salad bowl. Place the Dungeness crab meat, shrimp, avocado, hard-boiled egg slices, tomatoes and cut asparagus spears in a circular pattern on top of the mixed greens.
Drizzle with your favorite salad dressing, or choose from one of these four simple vinaigrette recipes.
Toss, serve and enjoy!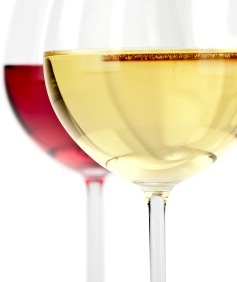 Rachel's suggested wine pairing

It can be tricky to pair wine with salads because of the acidic vinaigrettes on salads and the greenness. A Pinot Blanc from Alsace pairs nicely with seafood salad. It's smooth and dry with a zesty acidic finish. It pairs nicely with seafood and even the asparagus. Another wine to pair with seafood salad is a Hunter Valley Australian Sémillon. It's fresh and zippy when it's young, yet more complex as it ages. It's a perfect wine to pair with raw or lightly cooked shellfish. Also try crisp, minerally driven white wines, such as a Sancerre from the Loire Valley in France or an Albariño from Spain, which both pair beautifully with shellfish.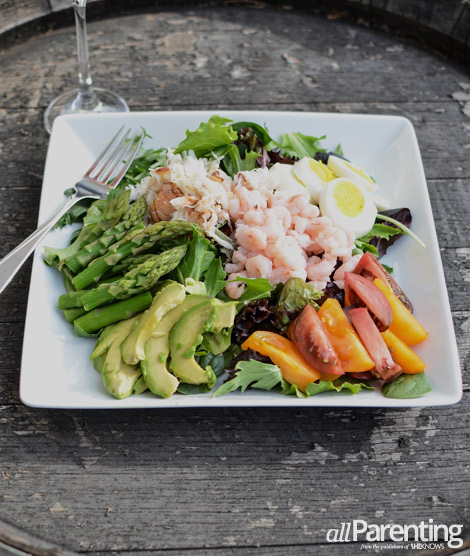 More salad recipes to try
Mason jar layered salads
Grilled chicken and arugula salad
Spinach salad with grilled salmon